The Infrastructure Available to the Commercial Space Industry will Impact Affordability of Launches
Peter Beck launched Rocket Lab in 2006 in New Zealand. Though his background isn't traditional, he knew he wanted to build rickets from a young age. He quickly developed international partnerships and expanded with venture capitalists in 2014. Since 2014, the company has doubled in size every year. Today, Rocket Lab has more than a thousand employees. Beck said, "we made quite a few acquisitions last year, and we doubled that way."
Rocket Lab requires the best of the best from its partners, and some of those partnerships have led to acquisitions. After long held relationships, Beck recognized the best in class and grew the Rocket Lab family. With US Headquarters and operating in New Zealand and a couple of other countries, Beck said,  "we've been global since day one and we're used to operating in various hemispheres."
In addition to expecting the best in class, Rocket Lab prioritizes sustainability. The launch company is exploring ways to make their rockets more sustainable, both by decreasing the stage times of the rockets and by transitioning elements into working satellites while in orbit. Beck knows that the entire industry has to adapt to become more sustainable. "There's technology to sustain space, but it's better not to get there in the first place," said Beck.
History of space exploration has accumulated dead rockets in orbit. Leaving the upper stages with huge mass in orbit, "is not cool," said Beck. According to the Committee on the Peaceful Uses of Outer Space, "the Earth's orbital space environment constitutes a finite resource that is being used by an increasing number of States, international intergovernmental organizations and non-governmental entities." Hence, the focus on transformative elements so that Rocket Lab vehicles can lead the industry in responsible launching.
The majority of the work for sustainability has to be done by governments and authorities. "As a launch provider we're a glorified freight company," said Beck. It's a logistical nightmare for regulation to fall onto the freight company. "There's not cohesive framework there, there has to be a global regulation." According to the Secure World Foundation, space sustainability requires international cooperation, discussion and agreements designed to ensure that outer space is safe, secure, and peaceful. Addressing increasing complexity of space operations requires international cooperation.
More in This Series
Latest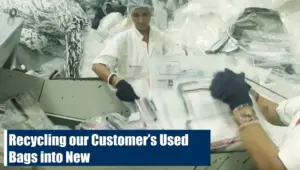 December 6, 2023
This video focuses on EcoLOK4, a groundbreaking product by CONTROLTEK that exemplifies innovation in sustainability. It highlights the process of transforming landfill waste into new deposit bags, with 90% of each bag's material being repurposed trash. This initiative not only reduces waste but also closes the sustainability loop, demonstrating CONTROLTEK's commitment to environmentally friendly […]
Read More