The Space Race Is Back and Heading to the Public Market

The return of the space race has more companies and investors looking for ways to get into the industry. Astra is the first rocket company since 1990 to announce it will go public, and the latest space SPAC since Virgin Galactic in 2019. The California garage startup, which now occupies a quarter-of-a-million square foot facility in Alameda, is valued at $2 Billion. The company provides rocket launches for $3 Million each, significantly less than that of SpaceX and Rocket Lab. Watch Emily Chang's report above or read the transcript below.
—
From home garage to full fledged rocket company, Astra is the latest upstart looking to make its name in the space race with big ambitions to ramp up to a rocket launch a day delivering things like satellites, supplies and other cutting edge technology to space within the next four years. To raise capital and fast CEO Chris Kemp plans to capitalize on the SPAC craze, and take the company public this year in a merger with Holicity, run by Billionaire and former telecom mogul Craig McCaw.
Astra would be the latest space back since virgin galactic, which merged with social capital in 2019. Astra, though, wasn't founded by a billionaire. It started operations in a San Francisco garage with limited funding. The company now designs tests and manufactures a line of small, relatively cheap rockets at its current factory just over the Bay Bridge in Alameda, California. A former Naval base, now home to served as a jet engine research facility and gained popularity as the site of Discovery Channel's Mythbusters.
The team occupies a quarter of a million square foot research facility where researchers, engineers and scientists can all work under one roof, eliminating the need for complex logistics. In December, successfully launched their 3.2 rocket from the Pacific spaceport complex in Kodiak, Alaska, but nearly missed its orbit target. Kemp has said some minor tweaks should resolve the issue and allow them to fly again this summer.
Spacex is currently the dominant maker of large rockets designed to carry thousands of pounds of payload to orbit. But it comes with cost, charging roughly $60 million per launch. By comparison, rocket lab, founded in New Zealand, and now headquartered in the u.s., starts at around $6 million a launch. Astra is now only capable of smaller payloads than both companies, but will charge just $3 million per launch over the next few years.
The first and last rocket company to go public with Orbital Sciences Corporation back in 1990. It since merged into a subsector of Northrop Grumman. Astra will be the only publicly traded company focused solely on building and launching rockets when it begins trading later this year if Kemp can execute his big vision.
As more and more players join the space race, opportunities will become abundant for investors to enter the arena. But questions still remain around when the industry starts making money. Morgan Stanley believes the global space industry could generate more than a trillion in revenue or more in 2040, up from $350 billion right now, over half the growth coming from satellite broadband technology. And as rocket launches get cheaper and more companies look to commercialize space, profitability may soon be taking off.
*Bloomberg contributed to this article
—
Follow us on social media for the latest updates in B2B!
Twitter – @MarketScale
Facebook – facebook.com/marketscale
LinkedIn – linkedin.com/company/marketscale
Latest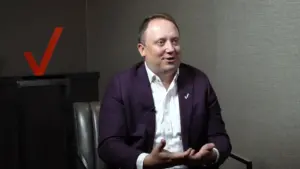 December 1, 2023
For a special episode of The Verizon Partner Network the focus was on the considerable role of partnerships in the Verizon Partner Program and the leaders shared their perspectives on the initiative. Their conversation brought about a lot of thought-providing context on the evolving telecommunications landscape. In today's era, collaboration and integration are key to […]
Read More