Where Will the Money Come from in Space Sustainability?
On the Space to Grow podcast, Astroscale's Chris Blackerby and Charity Weeden bring their compelling experience and expertise to map out the technology, international policy, and scalability that will define the next generation of space exploration.
Space to Grow has an exciting episode featuring Astroscale CEO and Founder Nobu Okada. In this interview, Chris Blackerby and Charity Weeden talk to their boss and the man behind bringing awareness and industry to the space sustainability market.
Okada's career didn't begin in space, although space was certainly mesmerizing to him early. He traveled to the U.S. to attend Space Camp as a teen, something Weeden did, as well. The love story with space wouldn't be a major part of his life for years. His career included work in Japan's Ministry of Finance, as a consultant with McKinsey, and leading IT startups.
"The commercial role of space sustainability is coming, with awareness raised in the past few years" – Nobu Okada
Okada said starting Astroscale was a journey to do something different. He was looking for hot topics in space and found sustainability. He attended a global conference in April of 2013.
"No one had solutions or were taking any actions to clean up space." So, he decided to hold that torch, founding Astroscale a week later. Since then, he's raised over $191 million.
Raising money for any business is challenging, for space-related startups, maybe even more so because it's not a quick return. Okada said, "Investors are simple and focused on ROI. The rules are making them feel secure, confident, and happy. We also carefully designed the terms and conditions for each series."
Okada admits the very first series was a leap of faith for investors. "We had big passion, people, and no technology. At that point, people are investing in you."
Since then, the company has proved the market is there. Still, it's a slow process to transform space into a sector where commercialization is a bigger part of the picture. Now, the biggest customer for space-related solutions is government. Okada believes a turning point is coming. "We have to create the future, not wait for it. The commercial role of space sustainability is coming, with awareness raised in the past few years," he noted.
Follow us on social media for the latest updates in B2B!
Twitter – @MarketScale
Facebook – facebook.com/marketscale
LinkedIn – linkedin.com/company/marketscale
Latest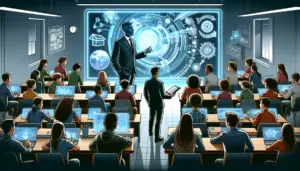 November 27, 2023
In an era where education stands at the crossroads of tradition and innovation, the potential value of thought leadership becomes the guiding star for progress. "Just Thinking" dives into this potential with host Kevin Dougherty and guest Evan Edwards, a Professional Learning Specialist at 806 Technologies who exemplifies the transformative impact of visionary guidance […]
Read More