A Perspective on Robotics in the Caregiving Industry
There's new tech in town and that includes the introduction of caregiving robots to meet demand. Researchers at the University of New Hampshire are receiving a $2.8M grant to develop assistive care robots that will ease the burden on caregivers.
Is this technology a worthy investment for the caregiving industry, or is the human connection irreplaceable?
Larry Carlson, MBA, Former President & CEO, of United Methodist Communities shares his perspective on robotic caregiving and its prospective place in the industry.
"Robotic caregiving will never replace human contact. That said, there is a place for robotics. They can be good for enhancing human connection but never replace it. That might look like a product called It's Never Too Late, or IN2L, run by a human or mechanical CAT initiated by a human or a monitoring system that supports the caregiver to respond in person more effectively.
Honestly, the idea of a robotic elder care system sounds terrifying to me. Dementia does not mean stupid. People with dementia diagnosis know the difference between a robot and a human. I also can see it inducing paranoia and fear. A faller alert system we piloted had a robotic voice when triggered that would come out of the ceiling that said, "Please sit down. Someone will be here to help you."
It scared the daylights out of our residence, we had to turn it off. It just was not normal. The right kind of check is a useful investment, and what I think the tech industry needs to examine is who are they creating this tech for. Nothing seems to be aimed at the person with dementia or support the direct caregiver's experience where most of the dementia support is needed.
There are lots of great ideas, but I feel like they're developed by people who never had a relationship with someone with dementia."
Latest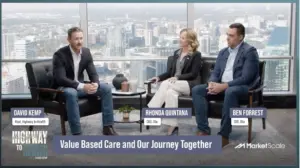 December 7, 2023
As of recent times, the healthcare industry has been progressively shifting towards value-based care, a model that emphasizes patient outcomes over the quantity of services delivered. This transition represents a significant shift that promises to enhance patient experiences and outcomes while controlling healthcare costs. With a growing emphasis on this approach, especially over the […]
Read More