Alabama is Setting the Course for Drone Delivery: Drones in America
In this week's episode, Grant Guillot is joined by Rhett Ross and Philip Burton with Deuce Drone, a UAS delivery service provider based out of Mobile and initially operating in cities within Alabama. Guillot's firm, Adams and Reese, has been engaged by Deuce Drone to assist with regulatory and government relations matters.
"The ability to engage with the public and with federal, but, even more so, state and local leaders at the introductory stage of the development of a drone company is so critical to helping the operation become scalable," Guillot states, noting that assisting Deuce Drone with its UAS operations falls within Adams and Reese's "comfort zone in working with state and local officials to help embrace technology and advocate on behalf of our clients."
Guillot is also joined on the episode by his law partner, Britton Bonner, who leads Adams and Reese's Economic Development Practice Team and represents commercial enterprises in various sectors, including manufacturing, shipbuilding, logistics and distribution, aviation and aerospace.
"[The drone industry] combines new technology with federal regulation that is going to necessitate local support and state support," Bonner says. "Most of the projections…have estimated that the drone industry as a whole would have an economic impact that would support over 100,000 jobs potentially by 2025. Where those jobs go is going to be determined by the regulatory environment and the local acceptance of the industry. I think you'll see states that are opening up sooner to the drone industry and embracing it.  They will siphon jobs and opportunities away from state and localities that aren't in support."
Deuce Drone is designing a system whereby consumers can place orders from a retailer via an app, which will then interface with the retailer to transmit the order and confirm the time the order should be prepared and packaged for delivery. Once the package is ready, the retailer will then load the package onto an automated conveyor system that will transport the package to the roof of the building to be retrieved by a drone. The drone will then fly to the consumer's location in accordance with all applicable regulations and deposit the package at the consumer's location before returning to the retailer to retrieve the next order.
"We want to facilitate B to B and B to C delivery of packages from existing retailers and restaurants in local communities," says Ross. "We will use off-the-shelf drone systems that our artificial intelligence and software design teams will design the background flight systems for to guide the drones from point A to point B safely, quietly, and with high quality for the packages."
"The narrative [brick and mortar retail industry is] constantly battling is how are we going to stay relevant in a world where Amazon has massive market share," Burton says. "So this technology, retrofitting it with…existing retailers seems like a logical play, and we're really excited about it." Noting the time savings drone deliveries are uniquely capable of achieving, Burton estimates that "in theory a package could go round trip within 12-minutes."
The parties also discuss the importance of safeguarding against privacy and nuisance concerns and the significance of gaining the public's trust of drone operations. Public perception and the regulatory environment "cannot exist without [each other] in the U.S.," Guillot explains. "The FAA is going to be much more likely to facilitate a favorable regulatory environment if it has public support, and the public is going to be a lot more likely to accept drones if it knows the FAA is focusing on safety and requiring [drone service providers] to make that safety case."
Bonner adds, "You've got to have your local buy-in from your elected officials because they are going to be the biggest advocates for this and because it is a huge economic impact for the region," Bonner says. "This is about quality of life, and this is about raising the quality of life of the citizens in the area in which the services are going to be provided so I think the local buy-in and the local support is a key ingredient."
Deuce Drone is partnering with a large regional grocery chain as well as with a national fast casual restaurant chain that includes in-restaurant dining and delivery options. "The traction is there.  The people see it," Ross says, noting the Deuce Drone is focused on designing their products and services to be safe and quiet, provide privacy, and facilitate community involvement.  "If we do that, we are going to be rolling this out across the nation I think very successfully over the next few years."


Join host Grant Guillot of the law firm, Adams and Reese for Drones in America with new episodes available where ever podcasts are found.
Latest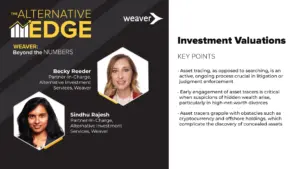 December 4, 2023
In this episode of The Alternative Edge, a Weaver: Beyond the Numbers Podcast, host Becky Reeder, an audit partner and co-leader of the alternative investments practice at Weaver, engages with Sindhu Rajesh, an Alternative Investment Services Partner with Weaver. They unpack the complexities of venture fund valuations, offering critical insights into industry dynamics and best […]
Read More