Are You Content With Your Content?: Diving Into Data
In this week's episode of Diving Into Data, we explore the convoluted world of content analytics to understand how you really gauge the effectiveness of those investments. We also touch on some leadership 'lessons learned' from the COVID-19 outbreak and are back with another installment of Industry Rapidfire around sports and entertainment.
TC also shares some guidance and advice to business leaders on returning to the 'new normal' and how as a leader (and specifically as a data leader) you need to be open to change and ready to adapt. This is a unique challenge for every business and leader, so learn from TC's mistakes!
In our Industry Rapidfire segment, we focus on sports and entertainment. After last week's AI discussion, we look at how AI is presenting a fascinating opportunity to better diagnose and address head injuries in sports. In the entertainment world, we touch on the mysterious 'recommended for you' algorithms that decide what is going to pop up next on Netflix, Disney+, etc.
Sit back, grab a drink, practice social distancing, and let's dive into some data.
Latest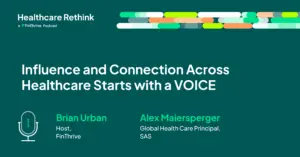 September 29, 2023
In the latest episode of the Healthcare Rethink podcast, presented by FinThrive, host Brian Urban sits down with Alex Maiersperger, the Global Principal Healthcare at SAS. Their conversation charts the role voice plays in influencing and connecting the healthcare industry. Maiersperger, who co-founded the Advancement League, shares his journey from being a healthcare optimist to […]
Read More