Artificial Intelligence A Priority With Qualcomm
Qualcomm is moving forward with its artificial intelligence (AI) research, attempting to produce an application that goes beyond the widely adopted Siri and Alexa assistance apps many smart phone users utilize.
Their goal is to take voice recognition to another level that is more life-like, less machine-like and more natural with the ability to recognize not any voice, but a specific voice.
Qualcomm is also working on new 5G technology which still is the top priority for the company, but AI growing in importance to the company.
Several companies including Tencent, Baidu, Google, Facebook, Microsoft and Amazon are are collaborating with Qualcomm on AI applications for their devices. Other companies, Motorola for example, are planning to optimize Qualcomm AI applications on smartphones.
The main point is that Qualcomm is seeking a methodology to put better, safer and more useful AI on the cloud, and they intend to devote more resources to this facet of their R&D.
Latest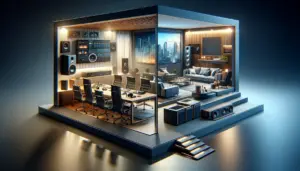 November 27, 2023
In this episode of "Pro AV Today," host Ben Thomas sits down with Audra Kinsley of Sonos Professional to unpack a topic that's causing (sound) waves in the audio industry: the fusion of commercial and residential audio systems. As we navigate through a landscape where consumer and professional audio worlds are increasingly intersecting, Sonos steps […]
Read More