AUVSI 2023: How SkyLine Enhances BVLOS Operations
The AUVSI XPONENTIAL show is one of the most exciting events in the unmanned aviation industry and this year, uAvionix is thrilled to be a part of it. This year, we are proud to be showcasing our C2 Link System Manager Skyline, an innovative solution for PV loss operations.
Developed by uAvionix, the Skyline system combines C2 link management and detect and avoid sources in one package. This combination has enabled uAvionix to obtain two Part 107 PV loss waivers from the Federal Aviation Administration, a milestone for the industry as a whole.
By utilizing Skyline, unmanned aircraft operations can be made safer and more reliable. Skyline provides maximum link reliability and redundancy, allowing for improved communication security. In addition, Skyline can detect, track and classify potential threats in real-time, as well as alert the pilot to potential risks. The combination of C2 link management and detect and avoid technologies has revolutionized the PV loss operations and made the unmanned aviation industry an even safer environment.
Stay tuned for more updates from this year's AUVSI XPONENTIAL show.
Latest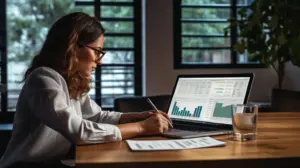 October 4, 2023
The intersection between security and financial acumen often gets overshadowed in a constantly changing economic landscape. While security is essential for safeguarding assets and ensuring continuity, its perceived monetary value is mired in misconceptions affecting company profitability. For many, security is viewed primarily as an expense rather than a potential cost-saver. However, understanding […]
Read More