Boon Edam to Feature New Turnstile and TV Episode at GSX+ Virtual Event
Lillington, North Carolina, September 21, 2020 – Boon Edam Inc., a global leader in security entrances and architectural revolving doors, today announced they are showcasing a new optical turnstile, the Speedlane Compact, as well as presenting the inaugural first episode of BoonTV about "Scalable Security" at the Global Security Xchange Plus (GSX+) virtual exhibition hosted by ASIS International.
This week, September 21-25, 2020, security professionals from across the globe are converging online to participate in over 100 educational sessions, network with peers, and visit the virtual "Marketplace" to browse and learn about new and innovative security technologies.
New Compact Optical Turnstile Ideal When Space is at a Premium
Boon Edam's Marketplace Profile at GSX+ features information about a new physical security solution, the Speedlane Compact optical turnstile. A video teaches security managers about the key features of this new turnstile, created out of a need for a shorter security barrier with the same level of security as more robust optical turnstile models. The Speedlane Compact features swinging barriers, generous space for access control or biometric device integration, and tailgating, safety and low-object detection sensors – all in a compact footprint ideal for locations where interior space is at a premium.
The Speedlane Compact has recently won the Security Today 2020 New Product of the Year Award in the Pedestrian Security Entrances category. This honor is awarded to products that are considered to be particularly noteworthy in their ability to improve security.
Touchless Entry Without Compromising Security
Due to the global outbreak of COVID-19, security professionals are tasked with providing a "touchless" entry experience while maintaining the security of the building. Boon Edam's Marketplace Profile contains a "Security Entrances" Brochure which outlines the types of security entrances that also fulfill the need for touchless entry. Boon Edam's Entry Experts are available the entire week of the GSX+ event to field questions and host face-to-face meetings to discuss further how to make buildings contactless and secure.
Educational TV Episode Helps Professionals Select the Best Entrances for their Buildings
The Boon Edam virtual booth will also feature a 20-minute episode of BoonTV where host, JC Powell, Vice President of Sales at Boon Edam, will introduce the concept of "Scalable Security." JC discusses the three basic capability levels of security entrances relative to tailgating mitigation – deterrence, detection and prevention – in order to help security professionals identify the best entrance type for each area of their building.
GSX+ has just started, but it's not too late to sign up to attend. Visit https://www.boonedam.us/events/gsx-plus-virtual-2020 for a $50 USD credit towards an "All-Access" or "One Day" pass, or towards one free "Marketplace-Only" pass.
For Further Information, Please Contact:
Tracie Thomas, Boon Edam
Vice President of Marketing
T 910 814 8239
E tracie.thomas@boonedam.com
For Media Queries, Please Contact:
Jayme Cunningham, LRG
Public Relations
T 845 358 1801
E jcunningham@lrgmarketing.com
Latest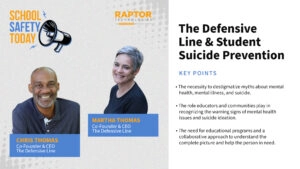 September 22, 2023
Student suicide prevention is a paramount concern among mental health providers. For one organization, student suicide prevention is more than a concern: it's their mission. The alarming rise in mental health crises among youth has become a pressing concern in recent times. With the complexities of modern life and the challenges of the digital […]
Read More