Building a Drone Infrastructure Using UAS Traffic Management: Drones in America
Welcome to this week's episode of "Drones in America," a MarketScale podcast hosted by Grant Guillot.
Guillot leads the Unmanned Aircraft Systems Practice Team for Adams and Reese, a law firm that practices across the Southern U.S. and in Washington, D.C.
On "Drones in America," Guillot and industry leaders, influencers and experts explore the rapidly growing commercial drone industry in the U.S., guiding you through the complex web of technology, policy and more.
In this week's episode, which focuses on unmanned aircraft systems ("UAS") traffic management ("UTM"), Guillot is joined by Amit Ganjoo, Founder and CEO of ANRA Technologies, and Ken Stewart, CEO of AiRXOS, part of GE Aviation. 
ANRA is an official NASA collaborator for their UTM solution and is closely working with NASA and the FAA-approved UAV test sites. ANRA's platform has been used for multiple UTM national campaigns as well as FAA Research Transition Team ("RTT") demonstrations.
AiRXOS, part of GE Aviation, provides reliable, safe UTM platforms, a wide-range of regulatory services, and powerful hardware, thereby expanding advanced operations and safely integrating unmanned traffic into the National Air Space ("NAS").
The FAA defines UTM as a "traffic management" ecosystem for uncontrolled operations that is separate from, but complementary to, the FAA's Air Traffic Management ("ATM") system. UTM development will ultimately identify services, roles and responsibilities, information architecture, data exchange protocols, software functions, infrastructure, and performance requirements for enabling the management of low-altitude uncontrolled drone operations.  In short, UTM provides the FAA, drone operators, and other stakeholders with the means to communicate and coordinate efforts.
ANRA and AiRXOS were participants in Phase 1 and have been selected to participate in Phase 2 of the UTM Pilot Program ("UPP), an initiative established by the FAA to define an initial set of industry and FAA capabilities required to support UTM operations. The UPP is meant to foster infrastructure to manage the widespread expansion of drone operations within the NAS, including goods delivery, infrastructure inspection, search and rescue, and agricultural monitoring.
Guillot, Ganjoo, and Stewart also discuss the importance of BVLOS (beyond the visual line of sight) operations, Remote ID, and the efforts of industry leaders and groups such as Lisa Ellman with the Commercial Drone Alliance to encourage public acceptance of drones.

Join host Grant Guillot of the law firm, Adams and Reese for Drones in America with new episodes available where ever podcasts are found.
Latest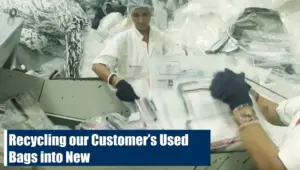 December 6, 2023
This video focuses on EcoLOK4, a groundbreaking product by CONTROLTEK that exemplifies innovation in sustainability. It highlights the process of transforming landfill waste into new deposit bags, with 90% of each bag's material being repurposed trash. This initiative not only reduces waste but also closes the sustainability loop, demonstrating CONTROLTEK's commitment to environmentally friendly […]
Read More