Can Loss Prevention Software Meet the Ever-Changing Challenges?
The ISCPO 2023 Conference provides the opportunity for Think LP to stay current on the challenges faced by logistics and retailers in the loss prevention realm.
The goal of Think LP is to continue upgrading and evolving its software to meet the ever-changing needs of its customers. Think LP is an intelligent loss prevention software that uses advanced data analytics and machine learning algorithms to help businesses detect and prevent loss due to theft, fraud, and operational errors. The software can be used by retailers,  logistics, hospitality businesses, and other organizations that are concerned about protecting their assets and preventing financial losses.
One of the key features of Think LP is its ability to integrate with existing systems and data sources, including point-of-sale (POS) systems, inventory management systems, and surveillance cameras used throughout logistics. This allows the software to analyze large amounts of data in real time and identify patterns and anomalies that could indicate fraudulent or suspicious activity.
Think LP (Logistics Loss Prevention) is a vital approach for businesses to adopt in their logistics and supply chain operations. By taking a comprehensive approach to risk assessment, prevention, response planning, and monitoring, logistics and retailers can minimize the potential losses due to theft, damage, and other factors, ensuring smooth and efficient operations and ultimately increasing their bottom line. To keep the software cutting edge, the team at Think LP continuously strives to listen to the concerns and difficulties faced by their customers. 
Tony's Thoughts:   Tony Shepherd, Senior Director of Loss Prevention Solutions at Think LP reflects on the opportunities provided by the ISCPO 2023 conference to not only network but also ensure that Think LP continues to update to meet the growing needs of customers. 
Article was written by Kimberly Sharpe
Latest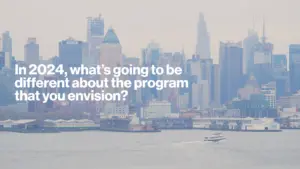 December 1, 2023
In the dynamic telecommunications landscape, Verizon's Partner Network continues to evolve, adapting to new trends and opportunities. For another segment featuring Mark Tina, VP of Indirect Channel Distribution and Channel Chief at Verizon Business Group, he explores exactly what types of significant changes and advancements the Verizon Partner Network will see in 2024. In this […]
Read More