The Latest Developments in Cloud Data Center Technology
As 5G cellular networks continue to grow and take hold of our cities, it's easy to forget how far we've come from even a decade ago. However, cloud operators and those that work with cloud data centers are seeing these record-breaking transformations take place on a daily basis.
According to Nathan Tracy, Manager of Industry Standards for the Data and Devices Unit at TE Connectivity, "the number of connections that are made in the cloud are increasing much faster than the population."
He noted that these connections are increasing at a 10% compound annual growth rate compared to the 6% compound growth rate for the number of users.
To learn more about the latest changes happening in cloud data centers all over the world, host Tyler Kern tapped Tracy for his insights.
"We're directly involved in helping the cloud go faster and meet the evolving needs as our technology changes," he said. "The demand on their capabilities is just going through the roof."
Tracy also noticed that the types of connections are changing from those in years past, as well. With machine-to-machine connections growing to become a huge percentage of the demand today, he predicted that these connections will soon make up 50% of all the connections on the cloud.
However, this foray into uncharted territory brings a wealth of obstacles too.
As the demand for higher data rates increases, cloud operators must deal with challenges like lower data transfer rates, greater power consumption, and thermal issues.
"It's a whole combination of things that we're dealing with… and, at the same time, it's a constant march to higher data rates," Tracy revealed.
Subscribe to the Connected World podcast on Apple Podcasts and Spotify to learn more about the latest technology trends that are helping create a safer, sustainable and connected future.
Follow us on social media for the latest updates in B2B!
Twitter – @MarketScale
Facebook – facebook.com/marketscale
LinkedIn – linkedin.com/company/marketscale
Latest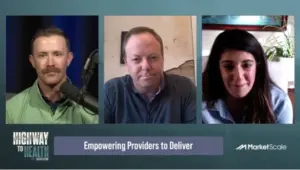 December 6, 2023
The healthcare industry is undergoing a significant transformation, driven by the need to improve patient experiences, access, and outcomes. Amidst this shift, contract lifecycle management (CLM) is emerging as a critical tool for healthcare providers. With the increasing pressure on cost management and compliance, healthcare organizations are seeking solutions that streamline operations and enhance […]
Read More