Creating a Domestic Drone Capable of Long-Range Missions
Both pilots and companies are navigating a thin line between security and innovation. Host Grant Guillot talks with leaders, influencers, and experts across the drone industry to guide us through the complex web of technology and policy in the United States.
The evolution of UAVs (unmanned aerial vehicles) is reaching top speed. As commercial and military use cases take off, the greater population is also seeing the opportunities. Talking about the world of UAVs, host Grant Guillot spoke with Jonathan Jacobs. Jacobs is the Director of Flight Operations for Martin UAV, a builder of advanced unmanned systems.
Jacobs has been in aviation for over 20 years, spending time in the Marine Corps. In 2008, he was introduced to UAV and has been part of the industry ever since.
His current role puts him in an operational role to work on processes and procedures. However, he said, "I'd be happy to just fly them all day."
Jacobs noted that drones upset the "paradigm of expectation to fit into the new world of UAV." One of the biggest focuses of regulators is safety. "That's our focus and to represent we can do things safely," he added.
He works with both small and large UAVs, ranging in payloads from five to 25 pounds plus fuel. The company recently launched a new larger product to meet those higher payloads. What makes the UAVs distinct that Jacobs works with is their ability to stay in the air for up to 12 hours, as they are gas-powered.
Ultimately, the goal of his company is to make UAVs "simple to fly, maneuverable, easy, and safe to use."
Follow us on social media for the latest updates in B2B!
Twitter – @MarketScale
Facebook – facebook.com/marketscale
LinkedIn – linkedin.com/company/marketscale
Latest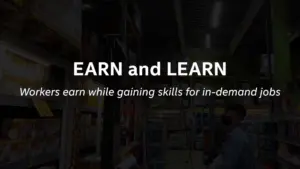 November 30, 2023
Faced with a significant workforce training gap, America is seeing a rise in innovative solutions, notably the earn and learn programs. These initiatives are pivotal in addressing the disconnect between available jobs and the skills of the workforce, particularly benefiting those without a four-year college degree. SkillPointe emerges as a key player in this […]
Read More