'CSI' Creator on How to Make Drones the Hero: Drones In America
Welcome to this week's episode of "Drones in America," a MarketScale podcast hosted by Grant Guillot.
Guillot leads the Unmanned Aircraft Systems Practice Team for Adams and Reese, a law firm that practices across the Southern U.S. and in Washington, D.C.
On "Drones in America," Guillot and industry leaders, influencers and experts explore the rapidly growing commercial drone industry in the U.S., guiding you through the complex web of technology, policy and more.
In this week's episode, Guillot is joined by Anthony E. Zuiker, the creator of the CSI franchise – the most successful television series of all time, as well by Tom Walker, Founder and CEO of DroneUp.
Guillot, Zuiker, and Walker discuss Zuiker's interest in crime scene evidence and how he came to develop the original CSI and its three spinoffs.
Zuiker explains his decision to back in 2005 to have an unmanned small-helicopter device serve as the murder weapon in "The Dove Commission," an episode in Season 1 of CSI: New York.
Guillot, Walker, and Zuiker discuss Zuiker's decision to use drones to film the final scene of the original series, in which Jorga Fox's Sara Sidle and William Petersen's Gil Grissom sail off into the sunset.
Zuiker also discusses how drones are currently used in crime scene investigations, pointing to the tragic October 1, 2017 Mandalay Bay Hotel shooting in Las Vegas and the recent helicopter crash that claimed the life of Kobe Bryant. Guillot notes the rise of drone use in law enforcement and emergency operations, pointing to the great work being undertaken by the DRONERESPONDERS Public Safety Alliance.
Walker recalls how DroneUp has conducted hydro spectral analyses of crime scenes using drones to determine the types of bodily fluids present on the ground and provide CSI investigators in advance with a "map" of where certain fluids were located.
On the subject of drone pilots, Zuiker said, "You are the future of Hollywood. You are the future of civil service. … I can't tell you how valuable a drone pilot is. You are seeing it already from COVID-19, through amazing the work Tom and DroneUp have been doing as a civil service to provide materials and medication."
"In the future, I predict that drones will be necessary and it will be a booming industry…Out of this virus will come many, many opportunities."
The three conclude their discussion by discussing public perception of drones.
"The majority of the drones that are out there…[are being flown] by operators who are making a living by flying those drones who have certifications and licenses to fly those drones who are trying to build their career and feed their families by operating those drones…Nobody wants us to operate responsibly and safely more than me and us, and our industry and the people who are building companies around that," Walker said. "I think we have to do a better job of articulating how important our industry is."
"The world is not a crime scene," Zuiker said. "It's a great place. Stay healthy."


Join host Grant Guillot of the law firm, Adams and Reese for Drones in America with new episodes available where ever podcasts are found.
Latest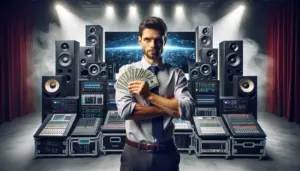 December 8, 2023
Mastering AV sales strategies in a global professional audio-visual (Pro AV) market, poised to reach $79.2 billion by 2028, requires much attention to detail. The surge in demand from corporate, government, and institutional sectors, driven by the need for enhanced productivity and efficient working environments, gives AV sales pros a lot of opportunity. In […]
Read More