Data Privacy Laws Are Expanding Quickly. What Does That Mean for U.S. Companies?
In an era of heightened data privacy consciousness, a wave of new laws is sweeping across the United States, shifting the landscape of digital information management.
From the heartland of Iowa to the scenic landscapes of Montana, states are proactively crafting legislative solutions to safeguard consumer data. Notably, these laws mandate an array of safeguards to ensure that organizations are not only transparent about their data collection practices but also secure in their storage and use of personal information. Data privacy laws also increase scrutiny on the use of AI and encourage due diligence in corporate transactions.
While data privacy practices can be expensive and legally complex, there are several benefits for organizations to adhere to data privacy laws. For example, businesses strengthen consumer trust and avoid significant penalties, both financial and reputational.
As the timeline for implementation spans the next few years, businesses and consumers alike have the opportunity to adapt and prepare.
Hunter Sundbeck, IT Advisory Services Manager at Weaver, has been closely monitoring these developments and shares his observations.
Hunter's Thoughts:
"Hunter Sundbeck here with a data privacy law update. Over the last several months, we've seen several states pass data privacy laws. These are Iowa, Tennessee, Indiana, Montana, and Washington. Iowa's goes into effect in 2025, Tennessee's in 2025, Montana's in 2024, Indiana's in 2026, and Washington's My Health My Data Act in March of 2024. Some key considerations from some of these is that Tennessee has an annual requirement of $25 million or more in revenue. Each of these requires a privacy notice to inform consumers about what's going on with their data that companies are collecting. And every organization collecting information on residents of these states required technical, physical, and administrative safeguards over consumer data and information. If you want to know more about these and upcoming data privacy laws, please feel free to reach out at weaver.com. Thanks, y'all."
Latest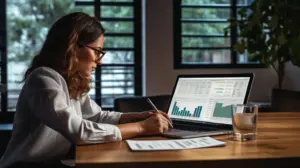 October 4, 2023
The intersection between security and financial acumen often gets overshadowed in a constantly changing economic landscape. While security is essential for safeguarding assets and ensuring continuity, its perceived monetary value is mired in misconceptions affecting company profitability. For many, security is viewed primarily as an expense rather than a potential cost-saver. However, understanding […]
Read More