DJI Quietly Introduce New Drone and Cinematography Service
And it comes with its own crew. And a truck.
Usually film gear companies make a lot of noise when announcing their new products. However, without a whole lot of pomp and circumstance, right in the thick of CineGear 2019 no less, DJI quietly unveiled not only their new drone but also their custom aerial cinematography service in a video on YouTube.
The DJI Storm drone features 8 rotors, 40.7lb payload capacity, 50mph top speed, and 15-minute flight time, as well as Ronin 2, Master Wheels, and Force Pro support and…you know…its own film crew through DJI's aerial cinematography service, dubbed DJI Studio.
Read more at No Film School
Latest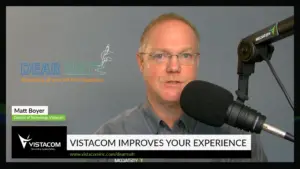 December 11, 2023
In a time when the AV industry supply chain faces unprecedented challenges, understanding its current status and future trajectory is crucial. In this week's segment of "Dear Matt," presented by Vistacom, host Matt Boyer, the Director of Technology at Vistacom, brings his over 30 years of experience in the audiovisual industry to the status […]
Read More