Drone Growth Brings New Maintenance Questions
Both pilots and companies are navigating a thin line between security and innovation. Host Grant Guillot talks with leaders, influencers, and experts across the drone industry to guide us through the complex web of technology and policy in the United States.
The ecosystem of drones includes many aspects. While the technology and the operations are often the top subjects, maintenance and repair systems can't be overlooked. Talking about its integral role in the unmanned aircraft systems (UAS) industry, Founder of Robotic Skies Brad Hayden joined Drones in America host Grant Guillot.
Robotic Skies has a unique business model. Hayden explained, "We have a network of repair stations for UAS that partners with OEMs and operators. We help develop maintenance programs and implement them through our service center network."
"Type certified or not, a maintenance program is necessary for OEMs and operators to ensure that drones operate efficiently over long periods of time."
Hayden started the company based on a lifelong love of aircraft repair, having grown up in a repair station. As drones became a serious entrant into the aerospace market, Hayden saw opportunity. "I recognized that drones were going to get bigger, and they'd need to be repaired locally. I also knew they'd be heavily regulated."
Creating this platform for repair and maintenance was challenging, as the market was very fragmented. But for the drone market to achieve more commercial applications, maintenance will be critical.
"We're thinking about things others aren't and doing so ahead of time so that these aircraft can keep flying reliably and safely. We're also collecting data on performance to use in predictive analytics and maintenance reducing risk," Hayden said.
Hayden is also bringing his knowledge and experience to the regulatory realm as an appointee of the Drone Advisory Committee.
"It's indicative of the FAA understanding the importance of maintenance to include me, and I hope I can bring a balance of looking at best practices from traditional aerospace and apply them in a way that makes sense," Hayden shared.
Follow us on social media for the latest updates in B2B!
Twitter – @MarketScale
Facebook – facebook.com/marketscale
LinkedIn – linkedin.com/company/marketscale
Latest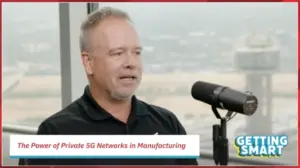 September 25, 2023
The Convergence of 5G and Automation in Manufacturing: A New Industrial Revolution The manufacturing industry stands at an inflection point. Advances in 5G technology and automation are coming together to transform the way products are made, and the role that humans and machines play in this process. Per Treven, Director of Business Development at Ericsson, […]
Read More