Drones In America: What Do Future Jobs in UAVs Look Like?
Welcome to this week's episode of "Drones in America," a MarketScale podcast hosted by Grant Guillot.
On "Drones in America," Guillot and industry leaders, influencers and experts explore the rapidly growing commercial drone industry in the U.S., guiding you through the complex web of technology, policy and more.
This week, Guillot was joined by Darshan Divakaran, Founder and President of AIRAVAT, LLC. AIRAVAT works with commercial and government clients to provide UAS program integration, flight training and safety operations. Divakaran discussed his new initiative with via AUVSI North Carolina, creating a interactive forum called "Lets Talk Drones" as a way to connect the drone community despite the COVID-19 pandemic making it harder for drone groups across America to get together.
Divakaran also spoke about how the greatest improvements are often in uncertain times and offered predictions on how social distancing might end up offering drone pilots more work.
Bonus Episode
Stay tuned for a special Friday episode of Drones In America on June 5th. Grant will be speaking with Ariel Avitan of Percepto to discuss how critical infrastructure facilities might pose the most complicated challenge for drones.


Latest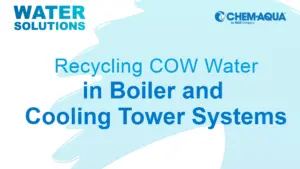 December 7, 2023
For the latest episode of ChemAqua's Water Solutions podcast, the focus was on an innovative approach to water conservation in the dairy industry. The show examined the potential of reusing Condensate of Whey (COW) water, a byproduct of dairy processing, and highlighted some of its economic and environmental benefits. Hosted by Dani Waddell, the informative […]
Read More