Empowering Truist's Brand Transformation
In December of 2019, a monumental event unfolded in the banking sector as Suntrust and BB&T joined forces to create one of the largest financial institutions in the nation. The merger of these two entities posed a significant challenge – how to blend their distinct identities into a unified brand presence under the new name, Truist.
Truist aimed to solidify its new identity through a comprehensive rebranding effort, centered around a sleek new logo adorned with the now iconic purple hue. President's Day Week in 2021 was earmarked as the moment when Truist's branch network would fully embody this fresh image.
Given the tight timeline, cooperation from major vendors and fabricators was imperative. Among the key contributors was AGI, an incumbent provider for SunTrust, which, thanks to their outstanding performance, earned additional projects that were running behind schedule.
AGI, with its diverse range of capabilities, played a vital role in streamlining the completion of each site. The company's expertise in handling turnkey projects, spanning from intricate window graphics to ATM surrounds and high-rise letter sets, facilitated the brand conversion process.
However, Truist faced another hurdle: creating a consistent and engaging interior experience across all branch locations. To tackle this challenge, AGI collaborated with Truest's designated architects, designers, and corporate real estate partners, leveraging its certification as a general contractor in all fifty states. Together, they developed a new concept for the flagship branches.
Utilizing a cutting-edge low-profile aluminum composite material system, AGI brought Truist's vision to life. This innovative solution featured instant LEDs that added interest and dimensionality to the design. The result was a bold and consistent purple interior brand wall that embodied Truest's new identity, captivating customers both inside and outside the branch.
AGI's involvement extended beyond the initial installations. With a dedicated lighting and maintenance team, they ensured that every brand-defining detail remained in pristine condition. Collaborating closely with Truist, AGI took charge of call maintenance and warranty management, guaranteeing that each Truest branch operated efficiently and retained its impeccable appearance long after the opening day.
As a multi-divisional provider and industry leader, AGI proved fully capable of tackling the daunting task of designing, creating, installing, and maintaining various elements of the new Truist brand. Their cross-divisional collaboration played a pivotal role in Truest's brand transformation and firmly established the institution as a leading nationwide financial brand.
AGI's commitment to excellence surpassed all expectations. Their unwavering dedication to delivering exceptional results and their ability to adapt to the ever-evolving needs of Truist is a testament to their expertise and professionalism. Through their remarkable efforts, AGI has not only empowered Truest's brand evolution but has also set a new standard for the industry as a whole.
Latest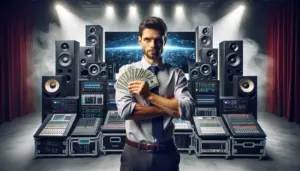 December 8, 2023
Mastering AV sales strategies in a global professional audio-visual (Pro AV) market, poised to reach $79.2 billion by 2028, requires much attention to detail. The surge in demand from corporate, government, and institutional sectors, driven by the need for enhanced productivity and efficient working environments, gives AV sales pros a lot of opportunity. In […]
Read More