Enhancing In-Building Wireless Connectivity: Within Wireless Announces Informative Webinar Series
In an era where reliable wireless connectivity is increasingly vital, Within Wireless, powered by Corning, is pleased to unveil its latest webinar series. Designed to address the implementation of in-building wireless systems, this informative series aims to equip building owners and operators with the insights and best practices they need to enhance their wireless connectivity. Joining the webinar will be industry experts from Wireless Services and Graybar, who will share their expertise and provide valuable guidance on various aspects of in-building wireless system deployment.
This webinar in the series will delve into the importance of developing a comprehensive wireless strategy. The experts will outline key considerations when designing and implementing an in-building wireless system, emphasizing the need for scalability, flexibility, and future-proofing. Attendees will gain insights into assessing their wireless needs, understanding coverage requirements, and planning for potential technological advancements.
Exploring DAS System Applications: In the second webinar, participants will have the opportunity to gain a deeper understanding of the diverse applications that can be integrated into a Distributed Antenna System (DAS). From public safety and emergency services to cellular and Wi-Fi connectivity, the experts will highlight the versatility and benefits of a well-designed DAS. By comprehending the potential applications, attendees can make informed decisions to meet their specific wireless demands.
This webinar will shed light on the key players involved in implementing and installing in-building wireless systems. The experts will guide attendees through the collaborative process with wireless service providers, system integrators, and equipment suppliers. Additionally, they will address common challenges and offer tips to navigate potential obstacles, enabling participants to achieve a seamless deployment.
"We are honored to have Sam Copeland from Wireless Services and Eric Toenjes from Graybar join us for this engaging discussion," expressed Rob Perelli, host of Within Wireless. "Their expertise in the field will provide invaluable insights for building owners and operators seeking to optimize their wireless connectivity."
Registration Details: The webinar series is open to all interested parties and free to attend. To secure a spot and discover more about Within Wireless, please visit the official website at https://www.corning.com/withinwireless. Don't miss this opportunity to gain knowledge from industry experts and elevate your in-building wireless systems.
About Within Wireless: Within Wireless is a monthly webinar series powered by Corning, focusing on different verticals within the wireless industry. Through collaboration with leading companies, the series provides a platform for experts to share their insights and best practices for improving wireless connectivity. To learn more about Within Wireless and access previous webinars, please visit https://www.corning.com/withinwireless.
Latest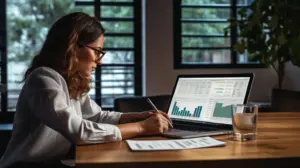 October 4, 2023
The intersection between security and financial acumen often gets overshadowed in a constantly changing economic landscape. While security is essential for safeguarding assets and ensuring continuity, its perceived monetary value is mired in misconceptions affecting company profitability. For many, security is viewed primarily as an expense rather than a potential cost-saver. However, understanding […]
Read More