Grcoery Shop Tradeshow Hype Video
At the highly anticipated Grocery Shop tradeshow, Phononic made a remarkable impression with their cutting-edge solid-state cold storage solutions. Positioned as a frontrunner in the refrigeration industry, Phononic showcased their revolutionary technology that is transforming the way perishable goods are stored, displayed, and transported.
Phononic's booth at Grocery Shop was a testament to their commitment to innovation and sustainability. The booth exuded a modern and eco-friendly ambiance, captivating attendees with sleek displays and interactive demonstrations. Visitors were introduced to Phononic's solid-state refrigeration systems, which offer superior temperature control and energy efficiency compared to traditional cooling methods.
Throughout the tradeshow, Phononic's experts engaged with industry professionals, demonstrating the benefits of their solutions for the grocery and food retail sectors. They showcased how their solid-state cold storage systems not only ensure optimal freshness and quality for perishable items but also reduce energy consumption and minimize environmental impact.
The tradeshow became a platform for Phononic to highlight their partnerships with leading grocery retailers, demonstrating their solutions' real-world applications and success stories. Visitors had the opportunity to explore the practicality and versatility of Phononic's products, understanding how these solutions can enhance product integrity, reduce waste, and provide a more appealing shopping experience for customers.
By participating in Grocery Shop, Phononic showcased their dedication to revolutionizing refrigeration in the grocery industry. Their solid-state cold storage solutions are poised to reshape the way retailers handle temperature-sensitive products, setting a new standard for sustainability and efficiency.
Latest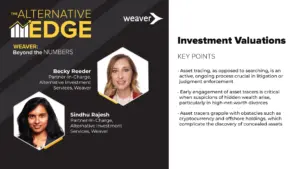 December 4, 2023
In this episode of The Alternative Edge, a Weaver: Beyond the Numbers Podcast, host Becky Reeder, an audit partner and co-leader of the alternative investments practice at Weaver, engages with Sindhu Rajesh, an Alternative Investment Services Partner with Weaver. They unpack the complexities of venture fund valuations, offering critical insights into industry dynamics and best […]
Read More