How CEO Gary Shapiro Took CES 2021 Completely Virtual
One of the world's most anticipated trade shows, CES 2021, has been kicking off to big reveals this year.
But perhaps the biggest news still surrounding the show is its decision to go 100% virtual. The move reflects both short term COVID responses, as well as confidence from the CES leadership team that the show would continue to attract large numbers of guests.
That bet was mostly right; this year, CEO of the Consumer Technology Association Gary Shapiro estimated 150,000 attendees, which is still a strong showing compared to last years more than 171,000.
We sourced CEO Gary Shapiro for comment on his decision to take CES 2021 100% virtual, how the team strategized to get it off the ground, and what the impact of a virtual CES could be moving forward.
"I started out open minded, but now I'm very excited because there's been so much support for it, over 1800 exhibitors, and plus it gave us an opportunity to reimagine what the CES is and the value it has for business in the industry and for connectivity. So we were able to change the show dates, we were able to extend the show by 30 days so the people can react, follow conferences they want to see, talk to exhibitors still, look at their what they're offering," Shapiro said.
"And we've also allowed us to connect people. Before the show, we've had over 70,000 people register and opt in to be connected with each other. So the connectivity is there, the personalization is there, and we're using keyword searches. And exhibitors have become very creative in what they're offering and how they're getting there."
"We'll have a lot of lives sessions and demonstrations and products. But we'll also have an anchor desk, we'll have amazing speakers. We've been freed from the physical world. And once we realized that we were able to plan ahead; we announced this in July and the response has been strong," Shapiro said.
"We've already signed up several hundred exhibits for January of 2022 in Las Vegas. Live events are starting to occur already. There's no question about it, especially, for example, medical conferences, doctors that have gotten the vaccine, are already agreeing to meet. My wife is one of them. She'll be in March in Colorado at a convention she attends every year because she got the vaccination as did others. So we're there, we just have to recognize this is an unusual year, take advantage of the digital opportunities that are there."
"And so much has happened. The world is transformed digitally, and every company is a tech company. And the changes in telehealth, telework, tele-education, so many different aspects of what we do, including mobility. I mean we have our leadoff keynote speaker, Mary Barra of GM, just announcing a whole new look and feel for GM. Electrification, that's what they're doing. And we have great companies out there like Sony, Samsung. We're focusing on 5G. Verizon's CEO is speaking. Also artificial intelligence, resilience in smart cities. They look different than they would have a year ago because we've changed how we work, where we work, how we play, how we get around and what we're looking at," Shapiro said.
"And everything is changing. Health technology is big. Digital health is a huge focus for the few hundred companies showing products. So the industry wants to get together, they want to communicate, they want to meet. We've provided that opportunity. We've teamed up with Microsoft, with Microsoft Teams. They've provided the infrastructure, the cyber security, the cloud platform, and the production. I'll be at Microsoft headquarters for CES."
Follow us on social media for the latest updates in B2B!
Twitter – @MarketScale
Facebook – facebook.com/marketscale
LinkedIn – linkedin.com/company/marketscale
Latest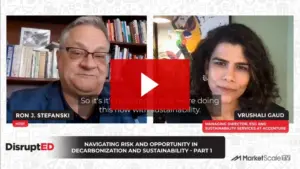 September 26, 2023
The global conversation has shifted dramatically towards decarbonization and sustainability in recent years. With the world experiencing unprecedented levels of disruption, from 5G technology to the challenges of a pandemic, the urgency to address climate change and its implications has never been more palpable. Although most business leaders see the vision of Sustainable Development […]
Read More