How Miami International Airport Is Changing the Future of Travel
Miami International Airport has partnered with Lufthansa, U.S. Customs and Border Protection, and global air transport IT provider SITA to use biometric face recognition rather than boarding passes and passports to board flights. This is designed to not only speed up boarding—by an estimated 80 percent—but also to bolster security measures.
All a passenger has to do is step up to a kiosk and take a quick photo.
Biometrics has been around for a while, decades in fact. The two most common kinds are fingerprint and facial recognition. Facial recognition technology involves mapping facial features and finding a match by comparing them to a database of known faces.
In the case of the SITA kiosk, the photo passengers take is compared to the company's database of people who are supposed to be on that flight. If the picture matches the database, that person is allowed to proceed.
While the accuracy of the facial recognition software is high—99 percent—the fact remains that there will still be a need to authenticate people using passports and boarding passes. By airport security standards, 99 percent is unacceptable.
The technology may seem futuristic but none of this is really all that new to travelers. After all, the iPhone X uses facial recognition to unlock itself, with a password for backup. This particular software uses 30,000 infrared dots to authenticate a face, and it is unlikely SITA's software uses any less. Further, facial recognition technology is being used in a variety of security areas, including secure entry into government buildings and private companies.
SITA makes all of this secure by using blockchain technology. Blockchain is of course famously associated with cryptocurrencies, but it is ultimately a secure, decentralized ledger with a variety of potential uses. In this case, it is used for securing facial recognition and boarding data. The use of blockchain means "passenger data can be secure, encrypted, tamper-proof and unusable for any other purpose" because "the source and history of the data is verifiable to everyone."
Facial recognition technology is really in its infancy, so there is going to be a lot of room for improvement. Still, it is remarkable how accurate the current technology is, and with the addition of blockchain technology, this data will also enjoy a high degree of security as well. Certainly passengers will appreciate the fact that they will be able to board their flights much faster and do so with a very high level of security.
For the latest news, videos, and podcasts in the Software & Electronics Industry, be sure to subscribe to our industry publication.
Follow us on social media for the latest updates in B2B!
Twitter – @TechMKSL
Facebook – facebook.com/marketscale
LinkedIn – linkedin.com/company/marketscale
Latest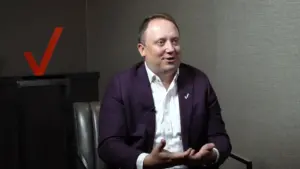 December 1, 2023
For a special episode of The Verizon Partner Network the focus was on the considerable role of partnerships in the Verizon Partner Program and the leaders shared their perspectives on the initiative. Their conversation brought about a lot of thought-providing context on the evolving telecommunications landscape. In today's era, collaboration and integration are key to […]
Read More