How to Overcome the Power Cabling Challenges in eVTOL Vehicles
Flying cars, something once thought of as pure science fiction, are nearly ready for takeoff.
However, eVTOL vehicles, or electric vertical takeoff and landing vehicles, still have some barriers to overcome before they take to the skies at scale.
Bruce Conway, Principal Scientist for AD&M Wire Development at TE Connectivity, spoke on power distribution needs required to make urban air mobility an everyday occurrence.
eVTOLs need power, and those power needs are unique from traditional aerospace designs.
"In the traditional designs, you have a generation plant and a power bus, and you're simply hanging devices off of that," Conway said. "Everything's just a consumer from that. The main power's being produced by the engines and is consumed by the engines. In the case of eVTOL, you have a battery plant and you have the distribution of the battery plant either through converters or directly to the lift engines. Now, those lift engines can be in a variety of different architectures."
With traditional architectures, power generally runs in one direction, but with eVTOLs, there is also a charge path to consider, which provides challenges to overcome.
Because eVTOLs cannot be too heavy or too oversized, it is essential to distribute battery power throughout the vehicle as efficiently as possible.
"You have a great deal of problems with routing, with power density, with ohmic losses, and there are a number of ways you can compensate for that," Conway said.
Some of those ways include raising voltage, deploying nontraditional geometries and utilizing networks rather than linear feeding.
So, yes, there are considerable challenges left before eVTOLs are a viable solution for society's mobile needs. Still, Conway was excited that the days of science fiction will soon become a reality.
Latest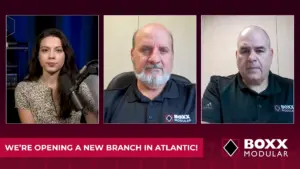 December 4, 2023
In an era where construction innovation is reshaping the industry, modular construction's growth continues to rise. In this episode of Built Modular, Boxx Modular's strategic expansion into Moncton, Atlantic Canada takes center stage. Host Gabrielle Bejarano welcomes Charles Landry and Ray Girouard to explore the implications of this venture. Bejarano, Landry, and Girouard discuss […]
Read More