Keith Bates: From Freelancer to Accidental Small Business Owner
When it comes to small businesses, it is hard to get much smaller than Lunarbot Studio, LLC, in Richardson, Texas. Keith Bates, who serves as President, Web Designer, and Web Developer is the entire company. He designs and builds static websites and custom WordPress themes for other businesses and individuals with an emphasis on creating a positive user experience.
While it is common for people to start a business, beginning with a business plan, deciding what product or services they are going to provide, that is not how Bates did it.
"I started off freelancing on the side to earn extra money while working a full-time job for another company," Bates said. "I really didn't advertise that much except on a couple of community websites. Eventually, through word of mouth my business grew and established a decent sized customer base."
Now people also find him through search engines and on LinkedIn.
Bates says it was not completely his decision to start his own business.
"I had been freelancing on the side for about eight years and really was not planning on going full-time at all. Then one day I was let go from my job," he said.
Wondering if he would be able to find another job, pay the bills, and support his family, his wife suggested he start his own business and freelance full-time.
"She pointed out that I had a modest-size client base already and that there was no time like the present to give it a shot. The fact that she was on board with it and so encouraging gave me a lot of confidence. Five years later I'm still going strong," he said.
While Bates does not have any employees, he does sometimes contract out work if he knows he is going to be overloaded. Being a single proprietorship means Bates does not have a lot of overhead financially, so the biggest challenge is handling large projects and keeping them moving.
"I might be waiting for feedback from a client and sometimes it doesn't come when expected. So, that usually means a lot of follow-ups and waiting," Bates said.
Overall, Bates' goals are simple.
"Provide for my family, pay my bills, take the occasional vacation or travel. At the moment I don't have any ambitions to become a super successful studio that makes a lot of money. I'm able to pick the projects I want to work on, which I find incredibly liberating," Bates said.
Latest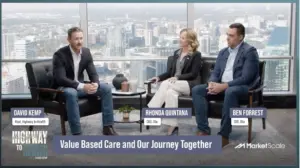 December 7, 2023
As of recent times, the healthcare industry has been progressively shifting towards value-based care, a model that emphasizes patient outcomes over the quantity of services delivered. This transition represents a significant shift that promises to enhance patient experiences and outcomes while controlling healthcare costs. With a growing emphasis on this approach, especially over the […]
Read More