Leaders Driving Change: SXSW 2019 Podcast Series
More than 100 people move to Austin, Texas each day on average. Quickly becoming a national city, the state capital is truly a melting pot of business, culture and personality. For one week each year, this identity rises to a new level for SXSW 2019. Thought leaders from the world of business, politics, food, film, music and more descend upon the city for discussions on the pressing topics of these fields.
MarketScale caught up with 10 of these experts to get a taste of this year's event from multiple perspectives.
Stay tuned for our three-part podcast series coming out March 11, 13 and 15.
Adrienne Lawrence
SXSW brings together people from extremely varied fields. From music and film to food and technology, expertise comes from just about everywhere. Adrienne Lawrence brings her own expansive background to this year's conference. As a former sports television host for ESPN and a lawyer, Lawrence brings a perspective that few others can provide on the legal side of sports among other topics.
We got her thoughts on the current outlook for women in sports media and her work with Madden NFL esports.
Currently, Lawrence collaborates with BuzzFeed and the Young Turks in Los Angeles, California.
We're at #SXSW! Thanks to @AdrienneLaw for joining us on the podcast. Stay tuned to hear what she had to say! pic.twitter.com/UMIJqW7EN5

— MarketScale (@MarketScale) March 8, 2019
Heather Watson
The workforce and work space are changing. This much is clear, but what is driving this change and what impact will it have on the future? Heather Watson, behavioral designer for the Center for Generational Kinetics, LLC, has been researching how Gen Z will change the global economy, and what the next wave of workers expects from the job market, working environment and more.
She will also be conducting a session on the state of marketing in the wine industry and how the field can better reach a millennial audience.
Thank you @HwBoost for joining us on the podcast at #SXSW! pic.twitter.com/lr1SbyQnYJ

— MarketScale (@MarketScale) March 8, 2019
Tatyana Kanzaveli
CEO and Founder of Open Health Network Tatyana Kanzaveli stands at the forefront of two burgeoning industries today. She is at SXSW 2019 to explain how blockchain's use in healthcare is more than just hype and joined the MarketScale podcast to get into the specifics of its impact.
Didrik Fjeldstad
Multiple languages can be heard by those who walk around Austin at any given time, but especially during SXSW. When speaking to Didrik Fjeldstad you can hear four or five at once. The multilingual VP of brand marketing for Scandinavian Airlines sat down with MarketScale to talk about how the company is working towards cutting carbon emissions and the importance of travel to the world in terms of learning and strengthening communities with new ideas.
Andre Natera
Not everyone has to travel across an ocean to experience SXSW. Andre Natera, Executive Chef at the Fairmont Hotel Austin, walked across town to join the podcast and told us how the city collectively prepared for an influx of tourists. He also gave us a nuanced answer to the 'local food' trend and what restaurants consider when deciding what goes into their menu.
Tim Brown and Nigel McAlpine
Specific testimony is what makes a conference like SXSW a must-attend event. Dr. Tim Brown Consultant Transplant Surgeon at Belfast City Hospital in Northern Ireland and Nigel McAlpine, Immersive Technology lead at Digital Catapult, spoke to MarketScale about a lifesaving surgery that was made possible through new technologies in the medical field. Hear how a kidney transplant was derailed by a tumor until the surgeon and a technology company were able to save it and make it safe for donation.
Jacob Gordon
Technology and music are synonymous with Austin but not often together. Jacob Gordon has changed this with company, Artiphon. Gordon has developed a product that adapts to the way individual musicians play. Users can strum, tap, drum and slide all with one physical device and use Artiphon's software to edit sound. He explained to us what inspired him to create a new instrument and how it might disrupt the traditional music recording industry.
Dimitrios Psaltis
Almost one century later, the scientific community is still exploring Albert Einstein's theory of relativity. Photographing black holes is at the core of what Event Horizon Telescope is trying to accomplish and Dimitrios Psaltis, professor of astronomy and physics at the University of Arizona and EHT project scientist, elaborated on the EHT's mission before his speaking engagement at SXSW 2019. He may not be able to give away all of his findings but he provides MarketScale with an inkling of what to expect in the near future in regards to black holes and humanity's understanding of space.
Trak Lord
Three-dimensional printing has become a larger topic at SXSW over the last few years. The technology has captured the attention of industries from construction to healthcare and everything in between. Markforged Director of Communications Trak Lord described how the company is innovating with 3D-printed metal parts for factory floors, enabling businesses to operate at maximum capacity. He also spoke about how the company has pioneered carbon fiber printing and its implications to manufacturing businesses.
Markforged is also up for an innovation award at SXSW 2019 and Lord spoke to MarketScale about why the company was nominated.
For the latest from SXSW make sure to follow MarketScale on Twitter and Instagram @MarketScale and check out our podcast series and written content for more perspective on the conference next week!
Latest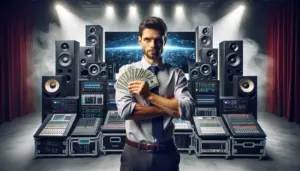 December 8, 2023
Mastering AV sales strategies in a global professional audio-visual (Pro AV) market, poised to reach $79.2 billion by 2028, requires much attention to detail. The surge in demand from corporate, government, and institutional sectors, driven by the need for enhanced productivity and efficient working environments, gives AV sales pros a lot of opportunity. In […]
Read More