LED Lighting Systems Increase Crop and Revenue Growth in Horticulture While Cutting Costs
According to the U.S. Department of Agriculture USDA), energy costs are the third most considerable expense for most growers in today's agriculture and horticulture sectors. Lighting for greenhouses is a significant contributor to those energy costs. Luckily, today's technology advancements in LED systems are improving energy efficiency and in turn cost savings, while also creating bigger yields per plant and producing more marketable crops. Research in several horticulture markets shows significant savings when using LED lighting systems.
One company offering greenhouse growers an AI-powered smart LED lighting solution is Sollum Technologies, a Montreal, Quebec company. Sollum focuses its lighting solutions on the things most critical for growers, increased productivity, cost reduction, and energy savings.
What else are growers looking for out of LED lighting systems? Kassim Tremblay, Vice President of Business Development for Sollum, spoke about some of the trends he's seeing.
Kassim's Thoughts
"Sollum Technologies offers an intelligent lighting system for greenhouses in the horticultural market. In lighting, in horticulture right now, we're seeing big lighting trends that are starting to be adapted to the crop.
We went from big HPS, high-pressure sodium lights, to fixed spectrum, where most of the market is today, to say, hey, lights need to adapt to the crop's needs because different crops have different lighting needs. That's really where Sollum comes in. Sollum has four major aspects of its dynamic lighting to adapt lighting to the different needs of the crop.
You must be able to control your spectrum completely. Those are the colors coming out of the light. You have got to be able to control the intensity, so the amount of light to control where this light is being given. So basically, the aspect of zoning and being able to create lighting zones and recreate lighting zones as you need.
Finally, this whole system is an environment that's always changing, right? Because you have the sun coming down at natural light levels, your lighting system needs to adapt itself. It's a change of paradigm that Sollum brings to the market where we used to say, hey, is this crop working under the light? Yes. No. It's a good crop. It's a bad crop. To finally say, I love this crop. How can I adjust my light to answer the needs of that crop? Sollum is part of this revolution in the trend of dynamic and adaptive lighting in the horticultural market."
Article written by James Kent.
Latest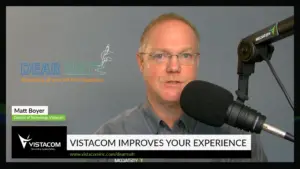 December 11, 2023
In a time when the AV industry supply chain faces unprecedented challenges, understanding its current status and future trajectory is crucial. In this week's segment of "Dear Matt," presented by Vistacom, host Matt Boyer, the Director of Technology at Vistacom, brings his over 30 years of experience in the audiovisual industry to the status […]
Read More