Lithium Ion Battery Market Primed For More Explosive Growth
With climate change concerns increasing, the automotive and transportation industries are rapidly evolving to meet the needs of the environment.
Electric vehicles (EVs) are continuing to innovate and evolve thanks to the revolutionary technology of lithium ion batteries, and this continued march toward more widespread utilization is driving unprecedented growth in the lithium ion battery market.
EVs and The Lithium Ion Battery Market By the Numbers
The electronic vehicle industry is rapidly growing. In 2018, the number of electric cars increased dramatically by two million to 5.1 million globally. Norway, which accounts for nearly half of the market share, leads the way, but other countries and global corporate juggernauts are joining the EV revolution.
These companies and conglomerates are pushing for electric vehicles because of the impact they have on the environment and they're effective cost return. This push is exemplified by Amazon, which recently ordered 100,000 delivery vehicles from Rivian, a startup focusing on the EV market. These vehicles are expected to be in action by 2030.
And this boom in the production and use of EVs is bringing the lithium ion battery market along with it.
In fact, a Global Market Insights study recently projected that the market would be worth an eye-popping $76 billion by 2026, highlighting the rapid rate at which the market is booming.
But what, specifically, is driving all this growth?
Key Drivers of the Lithium Ion Battery Market
In particular, three main factors are pushing this ballooning market. First, the sheer integration innovations being made possible will require a larger battery market. Consumer electronics and other devices are being integrated with vehicles in unprecedented ways, and manufacturers need solutions to ensure these integrations are not only successful but are as energy efficient as possible.
Second, the cost of batteries is under constant pressure to become cheaper, and research and development activities are underway across the globe to make that possible. This is attractive to battery manufacturers, and it could ultimately lead to vast increases in production.
Finally, lithium ion batteries offer higher energy density, meaning they offer higher power with minimal weight. This is, for obvious reasons, attractive to the growing EV market.
Tangible Evidence of this Growing Market
Several major market developments exemplify this growth.
These include:
Several large moves in early 2016, including a $100-plus million investment by Johnson Controls aiming to expand production capacity and Panasonic Corporation's joint venture with Dalian Levear Electric Co. to manufacture automotive batteries
The invention of a new lithium ion battery technology by Bosch in late 2015 leading to lighter weight solutions for smaller vehicles, which could impact the EV market
Leading the Way in Testing these Batteries and Keeping Pace with Unprecedented Growth
As the lithium ion market continues to expand and batteries need to be produced at a breakneck pace to keep up with the global push toward EVs, properly testing these battery solutions will be critical.
Arbin Instruments is the industry's leader in this area and is committed to innovating testing solutions that allow for this accelerated pace of production.
To learn more about how Arbin is at the leading edge of the EV and lithium ion revolution, visit https://www.arbin.com/.
Latest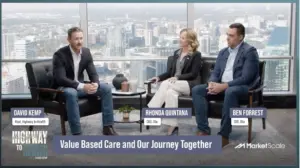 December 7, 2023
As of recent times, the healthcare industry has been progressively shifting towards value-based care, a model that emphasizes patient outcomes over the quantity of services delivered. This transition represents a significant shift that promises to enhance patient experiences and outcomes while controlling healthcare costs. With a growing emphasis on this approach, especially over the […]
Read More