Managed IT Services for Small Businesses Increases Revenue Growth
Small businesses have unique needs relating to IT services. Without the budget or resources of large companies, many have found great advantages in outsourcing IT. These businesses have much to gain—increased productivity, more security, less downtime, and more effective tools—by partnering with a provider to manage their network. When your small business takes advantages of these benefits, you can also experience revenue growth.
Reducing Downtime, Optimizing Productivity
When you team with a managed service provider (MSP), employee productivity improves exponentially. An MSP offers a solution that runs smooth with little to no downtime.  According to a study by HIS, a leading source of business analytics, the cost of downtime to North American companies is at $700 billion. And lost employee productivity is the largest contributor to that $700 billion figure. If employees aren't forced to contend with downtime, businesses can see great improvements in productivity. This is especially true for small businesses that have remote workers. A stable network enables these employees to perform their duties without issue. More productivity yields revenue growth.
Always Up-to-Date and Secure
One huge cost for small businesses related to technology is replacement of old hardware and updates for new software. It's a lot to keep up with if you don't have dedicated resources. There's also the threat of cyberattacks, which are not to be ignored. A Verizon Data Breach Investigation Report, 61% of 2017 breaches hit smaller businesses, up from the previous year's 53%.  Cyberattacks can cost a small business $84,000 to $148,000 per PwC. These staggering dollar amounts would be difficult to recover.
By employing an MSP, you won't need to worry about if your network is secure. It becomes the responsibility of service provider. Your MSP manages upgrades, security, and business continuity. With security upgrades processed virtually, processes are streamlined, immunizing security lag. Additionally, most managed security services providers employ a holistic approach, monitoring all aspects of networked services from endpoint to cloud, relieving industry compliance security burdens.
The need to upgrade also applies to hardware. Archaic hardware means slow processing, which impacts productivity. Hardware is also a big capital expense and hard to manage. Just as an MSP updates your software, they can do the same for hardware. It may also make for sense to use cloud storage options versus on-site servers. MSPs can guide you to what will work best for your organization.
Support When You Need It
MSPs offer help desk services for small businesses, offering great convenience should a system or computer have an issue. Instead of waiting hours or even days for help, employees get quick responses with an MSP.  With an MSP contract, you can enjoy affordable expertise.
Cost and Issues Related to Storage are Eliminated
If your business needs secure storage, an MSP can recommend and integrate such a solution. This space is adjustable as necessary, depending on how much data you need to store. You'll will be able to take advantage of additional backup, all with technical support for cloud usage. Managed cloud services offer infrastructure as a service platform, with access to database and software tools. This eliminates redundancy and delivers scalable storage. By using MSP cloud storage, you can curtail your infrastructure costs.
MSPs Reduce Risk, Increase Revenue Growth Opportunities
Working with an MSP is much more than just troubleshooting or Wi-Fi set-ups, it's a full-service solution to your technology needs. MSPs keep your network up-to-date and secure while offering support and data storage options. These efficiencies generate more revenue growth opportunities, allowing you to put your dollars elsewhere.
When you choose CIMA Solutions Group, you'll receive exceptional IT services. We understand the needs of your business, as well as your concerns about risk and cost. You can depend on us to manage your servers and storage with ease, eradicating downtime or data loss. Learn more about how CIMA can help your small business with managed IT services.
Read more at cimasg.com
Latest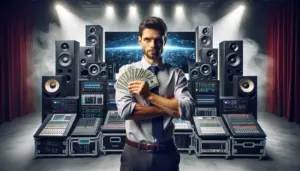 December 8, 2023
Mastering AV sales strategies in a global professional audio-visual (Pro AV) market, poised to reach $79.2 billion by 2028, requires much attention to detail. The surge in demand from corporate, government, and institutional sectors, driven by the need for enhanced productivity and efficient working environments, gives AV sales pros a lot of opportunity. In […]
Read More