Manifest Tradeshow Hype Video
Welcome to the Phononic booth at the Manifest Tradeshow, where innovation and cutting-edge technology take center stage. Phononic, a leading company in solid-state cooling and heating solutions, presents their revolutionary product, the Tote 2.0, in a captivating exhibition that pushes the boundaries of what's possible in the realm of temperature control.
As you step into the booth, you're immediately enveloped in an atmosphere of sleek modernity and scientific prowess. The booth's design perfectly complements the Tote 2.0's innovative features, with interactive displays and engaging visuals that demonstrate its capabilities in various industries.
The Tote 2.0, the star of the show, stands proudly at the center of attention. Its sleek, compact design belies its exceptional performance. This solid-state refrigeration system provides precise temperature control and is revolutionizing industries such as healthcare, life sciences, and food and beverage.
The booth features dedicated areas where visitors can witness firsthand how the Tote 2.0 is transforming cold chain logistics, preserving medications, and ensuring the freshness of perishable goods. Demonstrations and interactive presentations highlight the product's energy efficiency, reduced noise levels, and compact footprint, all while maintaining reliable and consistent temperature control.
Phononic's booth at Manifest Tradeshow is an experience that showcases their commitment to innovation, pushing the boundaries of traditional cooling and heating solutions. Discover the future of temperature control as you explore the Phononic booth, immersing yourself in the groundbreaking technology and endless possibilities presented by the Tote 2.0.
Latest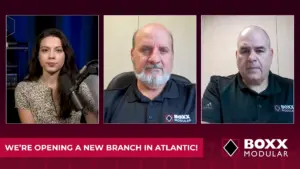 December 4, 2023
In an era where construction innovation is reshaping the industry, modular construction's growth continues to rise. In this episode of Built Modular, Boxx Modular's strategic expansion into Moncton, Atlantic Canada takes center stage. Host Gabrielle Bejarano welcomes Charles Landry and Ray Girouard to explore the implications of this venture. Bejarano, Landry, and Girouard discuss […]
Read More