NEW PODCAST: FINDING A CAREER IN DRONES WITH EVA SPEXARD OF MICRODRONES
FINDING A CAREER IN DRONES WITH EVA SPEXARD OF MICRODRONES
Often times, when people think about drones, they think about taking a toy, like a remote controlled airplane, out to a field and having a fun time. However, the technology in drones has become incredibly more advanced and the applications and uses for a drone are much more professionally focused. The drone market is also creating opportunities both in education and employment. Click the image below to listen to a podcast on drone careers with the Microdrones Global Recruitment Manager, or scroll down to read a summary of the interview.
Click here to listen to the podcast.
EXPANDING THE JOB MARKET WITH DRONES
Companies like Microdrones are integrating drones and technology to help customers deliver the best possible work while cutting costs, saving time, and completing projects more easily. Their success has created an expanding job market with new opportunities for employment.
Eva Spexard is the HR Manager for Microdrones. Prior to working with the company, Eva had a background in human resources and global recruitment. She was not very familiar with drones, and shared the misconception that drones were a toy that photographers could use to take better pictures. Eva said, "Now that I am working in the industry, I see on a daily basis professionals using drones to help them do their job. Our UAVs can be used for surveying, mapping, construction, inspection, precision agriculture, mining, and other commercial applications. It's so much more than just taking pictures from above. I really think the drone industry is the next automotive industry."
As the commercial growth of drones continues, the number of applications and ways they can be deployed is expanding too. Microdrones, a global market leader in professional UAV solutions, provides a number of unique integrated systems to assist their customers on the job. Eva notes that not only do the tools provide a different perspective from the air, but they also provide many new technological options to analyze data. "The mdLiDAR3000 is our newest LIDAR system," says Eva, "and it's really a revolution in professional geomatics. The new system is used in construction, land development, engineering and it combines our heavy lifting md4-3000 drone with a Riegl LiDAR and a SONY camera for rapidly producing colorized pointclouds.
SKILLS & SCHOLARSHIPS
Technology housed on the drone, like the LiDAR and other components require a user with advanced skill sets. Specialized training is needed to properly fly the drone, collect and analyze the data. That knowledge initially came from on the job training, but there are new opportunities being created in education along with drone based scholarships that are becoming available for students.
Eva says, "The scholarships have been in existence for a while, but now they are becoming more widespread. Everyone who's interested in drones has to be able to apply their specific skill set on the UAV systems. So we have opportunities for capable students, whether they're studying physics, mathematics or classical software development."
Opportunities include working in development and creating new products for the UAV industry- like the Microdrones mdLiDAR3000. Prospects can also help implement new software and systems into drones. Currently there is a high demand in the drone industry for geomatics professionals. Another need is for qualified pilots to operate the systems and train customers on proper flight procedures and work flow.
Eva has noticed that interested prospects can be generally sorted into two different categories. She says, "On one hand we have the applicants that are really interested in the industry and want to work with drones- this number continues to grow and we see more people coming. On the other hand, we find people who are more interested in new developments in the drone industry-not the drone itself. We need both. We're dealing with a high level of cutting edge technology that's shaping the future. I have to refer back to the new LiDAR system- before it was released, our vice president of sales shared a presentation on how it works. The video about what our pilots and geomatics professionals did in terms of colored point cloud processing was really unbelievable. The whole thing looked like a real picture and then they were able to add the color to the different point clouds- so trees were green and buildings were brown and water blue. It looked like a real life picture and they were able to make use of every point they captured- it was very impressive."
ENTHUSIASTIC EMPLOYEES
Working at Microdrones is exciting, challenging and innovative, and Eva is looking to expand the team. Besides having the specific skill set for the job, whether it's a background in software development, engineering or geomatics, Eva is looking for enthusiastic individuals. She says, "When you're in our offices, you really feel the passion people have about our product, and that's awesome. That's something I don't want our people to lose. We're all about enthusiasm and passion for drones, technology and new development. It's important to feel the product because that makes people work better- I believe that.
Microdrones has a large office based in Siegen, Germany, where flight regulations from the German Air Control can be quite strict. Working together with German Air Control, Microdrones received the necessary approval to fly drones in designated air space surrounding their office for product testing and demonstrations. From her office, Eva routinely sees Microdrones Integrated Systems in operation.
BIG DRONES, GROWING COMPANY
One of the questions she commonly fields is in regard to the size of the drones. Many people assume that Microdrones are small and can fit in the palm of your hand. However, she explains that that is a common misconception. "None of our drones would fit in any pocket. We are using the drones for professional jobs and applications throughout the word. We have three different sized drones. The md4-200 is our gateway drone, smaller and lighter than our other models, making it easier to take with you. Next is the md4-1000. This is our most popular version. The md4-3000 is our largest aircraft that can carry more, fly longer, and reach higher. It can handle heavy LiDAR sensors, professional mapping grade cameras, multiple sensors, and more."
With growth comes opportunity, and Microdrones is excited to offer challenging, innovative positions. Our 120+ employees work at our locations in Siegen (Germany), Vaudreuil, Quebec (Canada), Rome, New York (USA), and in an ever expanding network of offices worldwide.
If you're looking for routine, look elsewhere. Every day is exciting at Microdrones! If you're interested in participating in this great adventure and taking your career to a higher level, then please contact Eva and the HR department using the new Microdrones Careers page.
Latest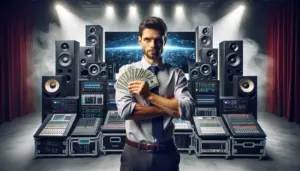 December 8, 2023
Mastering AV sales strategies in a global professional audio-visual (Pro AV) market, poised to reach $79.2 billion by 2028, requires much attention to detail. The surge in demand from corporate, government, and institutional sectors, driven by the need for enhanced productivity and efficient working environments, gives AV sales pros a lot of opportunity. In […]
Read More