Not Your Father's Data Center: The Ins and Outs of Financing Digital Infrastructure
Digital infrastructure is a common term in the data center industry, but it wasn't always. So, how did the industry evolve to the notion that technology is infrastructure? It's been a long journey, buoyed by investment.
To talk about the financial aspect of data centers, host Raymond Hawkins spoke with Irtiaz Ahmad, Head of Global Data Center Banking at Barclays. Ahmed has spent the last 15 years focused on the industry as an advisor, investor and operator. Prior to Barclays, he spent time at CitiGroup and Waller Capital Partners, watching the world of technology accelerate and change.
"We started to see the need for digital infrastructure based on fiber picking up steam about a decade ago," Ahmad said. "But, really, you can trace the infrastructure that we depend on today to keep us connected back to telecom in the early 1900s."
The connectivity that everyone enjoys today didn't just come to be in the modern era, and investment fueled it. To talk about the evolution, Ahmad started with the origins of data centers.
"They started off as hosting services for websites. Then, data centers started to change their approach to be connection hubs. In the funding realm, the beginning phases looked at investments in three buckets: technology, real estate, or communication," he explained.
The convergence of these three didn't happen until about 10 years ago, when the cloud became the new environment. This led to more investment and new providers popping up.
However, as Ahmad noted, "the real convergence of the three buckets happened about five years ago and added a fourth—infrastructure."
Where the world is now is the realization that technology is infrastructure, much like roads, airports and other traditional elements are. What's next for the data center investment ecosystem?
"The next investment is the edge, which has mainstream traction now. We're in the discovery process of now, as we were with the cloud before, and thinking, 'What can we do with it?'," Ahmad said.
Get more insights from Ahmad on data center investments by listening to the episode.
Follow us on social media for the latest updates in B2B!
Twitter – @MarketScale
Facebook – facebook.com/marketscale
LinkedIn – linkedin.com/company/marketscale
Latest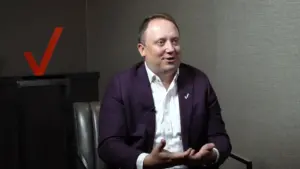 December 1, 2023
For a special episode of The Verizon Partner Network the focus was on the considerable role of partnerships in the Verizon Partner Program and the leaders shared their perspectives on the initiative. Their conversation brought about a lot of thought-providing context on the evolving telecommunications landscape. In today's era, collaboration and integration are key to […]
Read More