Optimizing Audio Performance: AtlasIED Automated Volume Control System
Key Points:
Manny Kitagawa discusses the significance of volume control in different settings, specifically in school classrooms

AtlasIED's modern IP speaker systems automatically set suitable volume levels for distinct spaces
Automated volume control mitigates disruptions and unintended adjustments
Summary: 
Manny Kitagawa delves into the importance of volume control in diverse settings, with a special focus on school classrooms. Unlike traditional analogue systems that require manual volume adjustments, contemporary IP speaker systems, such as AtlasIED's, automatically establish suitable volume levels for specific areas to avert disruptions. In typical classroom scenarios, volume levels are meticulously calibrated to guarantee clear communication without excessive noise irritation.
AtlasIED specializes in providing solutions for campus environments where volume control is essential for effective communication. Integrators and resellers can assess noise levels in classrooms, subsequently adjusting speaker volumes for optimal performance. In emergency situations, the system can amplify the volume to its maximum capacity to eliminate distractions and pinpoint individuals. Kitagawa underscores the value of automated volume control in preventing accidental adjustments, ensuring events and messages play at appropriate volumes without user intervention.
Taking into account the unique needs of the environment and event type is crucial when crafting audio systems. Automated volume control prevents unintentional adjustments and guarantees optimal system performance. AtlasIED's systems offer dual volume control levels, providing flexibility in establishing appropriate volume levels for different events.
Latest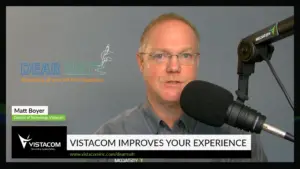 December 11, 2023
In a time when the AV industry supply chain faces unprecedented challenges, understanding its current status and future trajectory is crucial. In this week's segment of "Dear Matt," presented by Vistacom, host Matt Boyer, the Director of Technology at Vistacom, brings his over 30 years of experience in the audiovisual industry to the status […]
Read More