Phononic + Stow Robotics Partnership Recap
Phononic, a pioneering company in solid-state cooling and heating solutions, has joined forces with Stow Robotics, an innovative provider of robotics and automation solutions, in a strategic partnership that merges their cutting-edge technologies. This collaboration showcases the power of combining Phononic's advanced cooling systems with Stow's state-of-the-art robotics to revolutionize the supply chain and logistics industry.
By integrating Phononic's precision temperature control technology with Stow's autonomous mobile robots, this partnership is poised to optimize cold chain management and enhance operational efficiency. The seamless collaboration between the two companies enables the delivery of temperature-sensitive products with unprecedented accuracy, speed, and reliability.
Phononic's solid-state cooling solutions provide precise temperature control, ensuring the integrity and freshness of perishable goods throughout the supply chain. Paired with Stow's autonomous mobile robots, which navigate warehouses and distribution centers autonomously, the partnership enables streamlined and error-free operations. The robots work in harmony with Phononic's cooling technology, creating an efficient and controlled environment for temperature-sensitive items.
This powerful collaboration between Phononic and Stow Robotics paves the way for an enhanced and sustainable supply chain ecosystem. By leveraging their respective expertise, the partnership facilitates seamless integration of cooling technology and autonomous robotics, delivering transformative solutions for industries such as healthcare, food and beverage, and pharmaceuticals.
Together, Phononic and Stow Robotics are driving innovation and reshaping the future of supply chain logistics. This strategic partnership brings forth a new era of efficiency and precision in temperature-controlled operations, enabling businesses to meet the increasing demands of the modern world while ensuring product quality and customer satisfaction.
Latest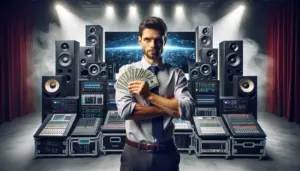 December 8, 2023
Mastering AV sales strategies in a global professional audio-visual (Pro AV) market, poised to reach $79.2 billion by 2028, requires much attention to detail. The surge in demand from corporate, government, and institutional sectors, driven by the need for enhanced productivity and efficient working environments, gives AV sales pros a lot of opportunity. In […]
Read More