Relationship Building the Nordic & Baltic Way

No matter the location or region a business is located, a partnership is the cornerstone of success. Markku Nopanen, Managing Director for Acrelec Nordics & Baltics, understands the importance of forging long-lasting relationships.
Nopanen provided his unique perspective on partnership in bringing technology solutions to the Nordics and Baltics.
One essential mission for Nopanen is to ensure the same level of products and service clients come to expect from Acrelec carry forward into the solutions provided to the Scandinavian and Baltic regions.
"In this area, it is really important for our customers and us that we build a good relationship with each other, so we trust each other and help each other to succeed," Nopanen said.
Nopanen said the secret to building these trusted relationships is Acrelec's strong belief in customer service.
"A different service provider may only do what is in the contract, but, when Acrelec engineers go on-site, we always make sure there is not something that's going to get broken within the next three days that they'll have to call us again," Nopanen said. "The service level is such that the customer can rely that their operation will remain up and running for a long time when they have us as a service partner."
And relationships are not a one-way street. Nopanen said that building strong relationships provide benefits for Acrelec too.
"Customers can give us good insights that we can use for research and development for new products," Nopanen said.
Twitter – @MarketScale
Facebook – facebook.com/marketscale
LinkedIn – linkedin.com/company/marketscale
Latest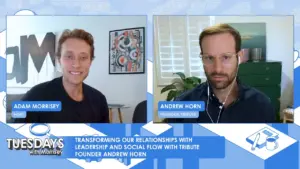 November 28, 2023
Can relationships be transformed through leadership and social flow? Navigating the intricate web of digital relationships can be a tricky proposition. Tuesdays with Morrisey's Adam Morrisey uncovers the transformative impact of emotional recognition in the workplace with Andrew Horn, the mastermind behind Tribute. This podcast edition unravels the story of a platform redefining how […]
Read More