SIONYX BRINGS THE WONDERS OF THE WATER AT NIGHT TO BOATERS
Night blindness is a serious issue for mariners, and until now, no action camera has a day/night experience to enhance navigation and fleet management capabilities. Unveil the wonders of water at night with the Aurora Night Vision Camera by SiOnyx!
​Perfect for the active boater, Aurora provides unparalleled capability in on-the-water safety and recreation. Whether it's navigating challenging water ways at night, capturing stunning videos of night time fishing expeditions, keeping track of a fleet, or locating, identifying and monitoring marine traffic, Aurora allows boaters to extend their passion in to the night.
Offering true day/night camera usability, Aurora utilizes augmented reality to integrate night vision capabilities with high performance, water proof action. Built to sustain the nasty environmental conditions found on any active recreational or professional vessel, Aurora can be worn to provide easy access to your watch commander, or is rail mountable with smart phone remote control and viewing.
​With Aurora, it's easier than ever to capture and share all the memorable action on the water at any hour. Take your love of the water out at night.
Latest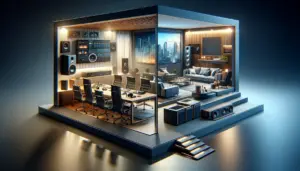 November 27, 2023
In this episode of "Pro AV Today," host Ben Thomas sits down with Audra Kinsley of Sonos Professional to unpack a topic that's causing (sound) waves in the audio industry: the fusion of commercial and residential audio systems. As we navigate through a landscape where consumer and professional audio worlds are increasingly intersecting, Sonos steps […]
Read More