Smarter Voice Detection Makes for Smarter Digital Assistants
On Spatial Perspectives, host Dan Cui will have a one-on-one dialog with innovators and thought leaders in the growing Spatial Reality, or Spatial Computing, market. Cui will invite guests who can discuss the real world use cases of the technology and how it could benefit mankind while exploring any drawbacks and how they might be mitigated.
Today's voice technology is held back by its inability to understand the deep meaning and emotion of human interactions. On this episode of Spatial Perspectives, Host Dan Cui talked with Ken Sutton, CEO, and Co-Founder, Yobe, Inc, which uses an intelligent approach to a more human voice experience. Yobe elevates voice technology to capture the nuances of everyday communication and unlock the potential of voice for modern brands.
"Our Solution allows us to, very similar to human hearing, to pull out the perceptual value of what's happening in a human voice."  – Ken Sutton
This means lowering the signal-to-noise ratio for many solutions, so from an auditory standpoint, you can hear something. A byproduct of their way of doing things also enhances some of the perceptual data, such as biometrics, location of the voice, or the talker. Their solution is similar to a human, according to Sutton, where a listener would know if a speaker is male or female, child or adult, the intent of the speech such as joking or serious.
"These are some of the metadata that's captured and locked in the voice signal that we've spent all our career really focusing on," Sutton said. "And using AI and different algorithms to extract that data for whatever purpose you want to use it for, whether it be device command and control or something as simple as you want to hear somebody better on a phone call."
Listen to hear more and watch an example of how Yobe's technology works.
Follow us on social media for the latest updates in B2B!
Twitter – @MarketScale
Facebook – facebook.com/marketscale
LinkedIn – linkedin.com/company/marketscale
Latest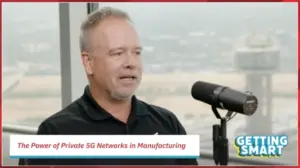 September 25, 2023
The Convergence of 5G and Automation in Manufacturing: A New Industrial Revolution The manufacturing industry stands at an inflection point. Advances in 5G technology and automation are coming together to transform the way products are made, and the role that humans and machines play in this process. Per Treven, Director of Business Development at Ericsson, […]
Read More