The Challenges Drone Operations are Tackling
Both pilots and companies are navigating a thin line between security and innovation. Host Grant Guillot talks with leaders, influencers, and experts across the drone industry to guide us through the complex web of technology and policy in the United States.
Initially used for military defense applications, today, drones are reinventing old businesses while creating new opportunities, enabling safer, time-conserving solutions that not only expand the horizons for companies large and small, but for entire industries and humankind as well. The advanced sensors (LiDar, Hyperspectral, Multispectral, Photogrammetry) of modern, high-tech drones are tackling missions of all types—fighting wars, controlling the spread of diseases, forecasting the weather, assessing infrastructure and geohazards, mitigating wildfires, delivering food and other goods, and everything in between.
Boasting a proven track record spanning seven continents, and flight standards and safety protocols that have been modeled from the U.S. military, Juniper Unmanned's remote sensing and analytics experts employ the highest quality, best in class technologies to help commercial enterprises break through to new levels of performance in the way they manage their physical assets. And on this episode of MarketScale's Drones in America, host Grant Guillot is joined by  Jason San Souci.
From an Astronautical Engineering graduate from the U.S. Air Force Academy to working with Native American tribes to better manage their natural resources, and from a chimpanzee habitat mapping project where he co-presented with the Institute's founder, Dr. Jane Goodall, to a spectral analyst contractor for the US Army SMDC/ARSTRAT deployed to Afghanistan, as well as Precision Hawk's first ever remote sensing scientist, San Souci discusses his inspiring and ever-evolving "aero-spatial" journey that has brought him to his current role as Director of Strategic Programs at Juniper.
Serving the transportation, utilities, petroleum & pipeline, land development and natural resources markets, Juniper functions as a center of excellence, testing cutting edge technologies and developing the infrastructure to support their clients' use of those technologies, not only enabling solutions for specific use cases but for the betterment of the drone sector as a whole.
"We take time to reflect on the operations we've done for the year, and say, not just what could we have done better, but what would apply across the board to all of our operations that will propel the industry forward," remarked San Souci. "There's a lot of folks that are doing great operations all around the industry, and we want to contribute to that by hopefully helping to set standards that can be used across the industry."
Latest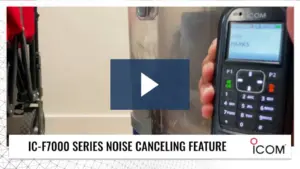 September 27, 2023
In this brief product demonstration video, ICom's IC-F7000 Series receives a mic test of its noise-canceling feature. Through the two demonstrations it is clear the IC-F7000 removes loud ambient noise for clear two-way communication.
Read More