Chegg Inc. and the FTC's Order Against Them Is a Wake-up Call for Data Privacy Strategy
The FTC's order against Chegg is a wake-up call for businesses everywhere and their current data privacy strategy. Chegg Inc. ("Chegg") has been punished by the Federal Trade Commission (FTC) for its "careless" cybersecurity practices that exposed the sensitive personal information of its customers and employees.
Chegg, according to the FTC's complaint, stored customer data in plain text on its network. This data includes names, email addresses, Chegg usernames and passwords, shipping addresses, and answers to security questions. Employee information, such as names, Social Security numbers, bank account information, and driver's license numbers, was also stored in plain text on Chegg's servers. To top it off, Chegg stands accused of failing to secure its network properly, thus allowing a hacker to access Chegg's network and steal private information.
According to the FTC, Chegg violated the Gramm-Leach-Bliley Act and the FTC Act by not securing its network and storing sensitive data plainly. As part of the settlement, Chegg will develop a comprehensive information security program and will obtain independent assessments of the program every two years. In addition, Chegg will be subject to FTC oversight for 20 years to come.
The FTC's order against Chegg is a wake-up call, not only for educational technology companies in the education sector but also for school districts and schools public and private alike. The FTC order against Chegg was because of, as the FTC determined, failure to implement commercially reasonable security measures.
Sai Huda, CEO of CyberCatch, is a globally recognized risk and cybersecurity expert and author of the best-selling book "Next Level Cybersecurity." He gives MarketScale his thoughts on why companies should pay attention to Chegg's mistakes, and learn from them to ensure their business's data stays private, but also, where Chegg went wrong, and how businesses can reform their strategies to meet commercially reasonable security measures.
Sai's Thoughts:
"Chegg had multiple phishing attacks that were successful. Chegg had other deficiencies that attackers exploited to steal over 40 million students and consumers' data, which included parents and finally, the FTC said Enough is enough. So the question is, what do commercially reasonable security measures mean when FTC describes them?
It is really complying with a standard such as NIST cybersecurity framework. There are 108 controls, and this is really what educational technology companies minimally must implement and comply with, but also school districts and schools public and private alike should really implement those 108 controls.
These controls are prevention, detection, and response. That is an adequate defense and that will enable schools or even technology companies to be able to make the assertion that it has implemented commercial and reasonable security measures.
Latest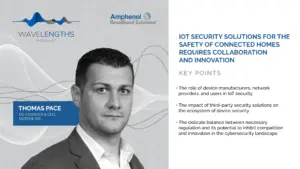 November 28, 2023
Since the introduction of smart devices, the world has increasingly become dominated by interconnected devices but IoT securitydemands are also growing. The "connected home" has shifted from what was once a futuristic concept to reality. With the global smart home market projected to reach $135.3 billion by 2025, the conversation around the security of these […]
Read More