The Prodcast: Introducing Qorta University: SambaSafety Release Notes
Like the rest of your workforce, hiring and retaining talented drivers for your company can be time-consuming and costly – but the alternative can be even more so. Business leaders understand the value of retaining their best drivers, but what's the best way to do so?
The experts at Samba Safety have considered this question for a while now, and they've come up with a solution: a smart driver training program powered by predictive analytics.
Qorta University, which launches in April, helps companies identify at-risk drivers and provide them with relevant and timely training modules to address risky behaviors before they become a problem.
Amy Wilson, the product manager at Samba Safety, and Marian Aavang, the vice president of product management, joined The Prodcast host Rich Lacey to share more about Qorta.
"Qorta University will allow our customers to log in and start assigning training to their people," Wilson said. "They can assign training to individuals, assign training to multiple people, and also go in there and track how those individuals are actually progressing through their training, which is pretty exciting."
The program allows companies to be purposeful in how they assign training. As Lacey revealed, assigning relevant training to those that need it instead of just assigning the same module to everyone can actually magnify the impact of that training.
In the future, the team hopes to further mesh Qorta with their predictive analytics.
"We know, from the decades of data we have that we've been able to mine, what actually contributes to overall driving risk," Aavang said. As a result, implementing this data into the program will "enable our customers to be smarter about their training and their delivery of it."
Get the latest updates from the Prodcast by Samba Safety by subscribing to the show on Apple Podcasts and Spotify, and visit our website to learn more about Qorta University.
Follow us on social media for the latest updates in B2B!
Twitter – @MarketScale
Facebook – facebook.com/marketscale
LinkedIn – linkedin.com/company/marketscale
Latest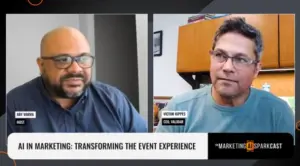 November 28, 2023
AI has been gradually changing the landscape of event technology at a very rapid pace. In an industry where staying ahead of technological trends is crucial, AI's impact on marketing and event management has become increasingly significant. As witnessed in the rise of account-based marketing and enhanced personalization, AI is effectively reshaping how events […]
Read More