The Right Software Solutions to Counter a Recession are the Ones That Helps Businesses Bounce Back
When the going gets tough, the tough get going. Every business is facing its own version of budget pains with heavy demand destruction from the Fed and a persisting inflationary economy. In times of economic downturn, businesses are always looking for ways to stay afloat, and sometimes the best solution is a to find focused efficiencies that can have rippling effects across the business. This is where good software can make the difference. How should businesses deploy the right software solutions to counter a recession and its worst consequences? When weighing how one investment can create cost-saving efficiencies across the company, what actually makes for the "right" software solution?
Businesses aren't naïve to the power of a good software tool to mitigate operational or financial challenges. According to a 2022 IT Leaders Pulse Report by MuleSoft, nearly all senior IT leaders said that the 'Great Resignation' created skills gaps in their organization's IT functions. The solution? IT teams turned to automated and self-serve practices to plug the gaps, which for a lot of businesses have proved to be a source for improved efficiencies and margins.
Maziar Adl, CTO of manufacturing product roadmap management company Gocious, breaks down his strategy for making the most of software solutions to counter a recession and its worst consequences. For Adl, the "right" software investments are not just a matter of cost-cutting, but also investing in solutions that ensure a stronger position when the economy bounces back.
Maziar's Thoughts:
"As we know a lot of the companies today are thinking about what's gonna happen if the economy goes into a full recession, and how would companies react when it comes to acquisition of software or purchasing software, and also what's gonna be the trends going forward on software purchase and software implementation in general.
Companies usually when they go into recession, to be able to right the recession and to be able to come out of it in a positive way, they usually immediately in the short term look at reducing their operating costs and increasing their, obviously, margin, which can be…but the successful ones do it proactively. And the other is to reduce their or divest the parts of the business that doesn't make sense anymore. But the more important thing is that…when you move forward it's also important to know what's gonna happen after the recession is over. Once the company's coming out of the recession, they want to come out in a much more stronger position.
So having these in mind, what makes a company successful in righting a recession? You realize that investing in software becomes more and more critical and important, especially in this time. Software is driving businesses more and more, and software is becoming a mission critical component of driving your operations and also your products.
So two things. One is, reducing the cost of legacy software and the software that really is not that mission critical becomes very important. But also understanding what parts of the business is shifting and what new products are coming to the market and investing in software that fuels the operation of that product more effectively or more efficiently becomes more, more important.
The other is just reality on the ground. The economy is going towards a model that remote work is becoming more and more natural to people and they are working from any part of the globe. That means that you need better tooling to communicate and collaborate together, and that only comes through digital transformation.
So if you look at it, even though a recession might mean pulling back from spending on certain software and also legacy software, and also reducing the operational costs of the software, it also means investment on more modern software and getting ready to come out of the recession in a much stronger position going forward."
Article written by Azam Saghir.
Latest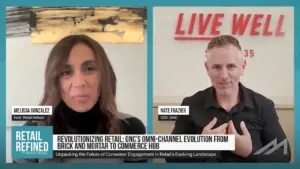 November 29, 2023
The transformation from a traditional brick-and-mortar store to an integrated commerce hub is crucial in the fast-evolving retail landscape. GNC's omni-channel evolution epitomizes this shift, blending in-person and digital experiences to meet the contemporary consumer's demands. But what does this mean for the future of retail? "Retail Refined," hosted by Melissa Gonzalez, welcomes Nate […]
Read More