The Role of AI in the Digital Marketplace
As the global digital footprint continues to grow, privacy and security concerns grow with it. For Cris Pikes, CEO of Image Analyzer, this could not be a truer statement. Pikes sits down with host Mike Philpott, Partner Sales Development Manager for AI – Intel UK, to discuss the important value AI has in the current and future digital marketplace.
Co-founded in 2004, Image Analyzer was originally built as a command-line scanner. While this version didn't stay online, the company blossomed from its idea. Version 4 of their software introduced further concepts in the arena, greatly improving on false positives and false negatives as well as the accuracy of the system. Pikes says as AI grew to be more commonplace back in 2017, seeds sprouted and "the tools really…became available."
Now on Version 8 of the technology, Pikes has helped increase Image Analyzer's vast portfolio to over 19 categories.
"Lots of different things, lots of different use cases," Pikes notes. "We've got a forensics module including DLP [digital light processing for] personally identifiable information." This and many other technologies are in the works, which will soon be unveiled.
Pikes highlights one example of a past use case of the technology that the U.S. justice system implemented to help them identify illegal drug-drop plane tail wings. With government policies changing rapidly, this AI informed technology is being used more frequently than ever and is only set to grow.
Digital privacy and security are now top issues for governments and individuals. This new cohesive marketplace allows Image Analyzer to increase their operability over at least the next two to three years. "There is a lot of interest in this market, which is more around what it is to be human online," Pikes says. While cybersecurity helps protect data and systems, other systems need more protection, including Zoom and Teams video calls. Pikes exclaims, "We're even able to see the next jump — it's the Metaverse."
Using AI, the technology could even have the potential to help prevent mass shootings by identifying the weapon and alerting authorities as soon as the image is analysed.
In working with Intel and utilising ready-made solutions like OpenVINO, Image Analyzer can quickly and efficiently deploy the technology at speed and in the correct format onto Intel hardware for OEM channels. The future is bright for AI use in technology. As the global digital footprint continues to expand, companies will continue to turn to AI to deploy smart solutions.
To learn more about the future role of AI, connect with Cris Pikes and Mike Philpott on LinkedIn.
Subscribe to this channel on Apple Podcasts, Spotify, and Google Podcasts to hear more from the Intel Network and Edge Group
Latest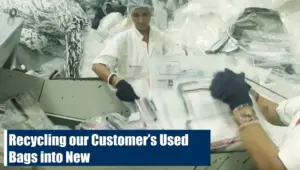 December 6, 2023
This video focuses on EcoLOK4, a groundbreaking product by CONTROLTEK that exemplifies innovation in sustainability. It highlights the process of transforming landfill waste into new deposit bags, with 90% of each bag's material being repurposed trash. This initiative not only reduces waste but also closes the sustainability loop, demonstrating CONTROLTEK's commitment to environmentally friendly […]
Read More