Top 5 Leadership Tips for Women in Tech
On the debut of Women in Tech by Nokia, Joanne Moretti, Founder and CEO of JCurve Digital, joined host Tyler Kern to share her best tips for women already leading the way in technology or looking to further their careers and advance into key leadership positions.
JCurve Digital delivers clients "Integrated Commercial Excellence" solutions, helping product and commercial leaders "create a high velocity, highly effective 'commercial value chain' that breaks down siloes between product managers, marketers and sales teams."
Moretti's top five leadership tips for women in tech are:
Create a Strategic Plan and Be a Leader Regardless of Your Title: Leadership isn't determined solely by position or a title. Anyone can lead, and it comes from passion.
Collaborate and Partner with Others: It's time to stop "looking out for No. 1." The partnerships and overall ecosystem of an organization can drive growth.
We're Moving from a Product to an Experience Economy: Consumers are now more focused on the service and experience surrounding products than simply the products, themselves. You need to adapt to that.
Self-Reflection and Self-Awareness: It's critical to step outside yourself and view your words and actions as a third party would to get an accurate picture of how successful you were in communicating, acting, etc.
Build Your Personal Network: Your personal network is an asset and should be treated as such. It has the potential to help establish incredible opportunities and results.
Be sure to subscribe to our industry publication for the latest news, videos, and podcasts in the Software & Technology Industry.
Twitter – @MarketScale
Facebook – facebook.com/marketscale
LinkedIn – linkedin.com/company/marketscale
Latest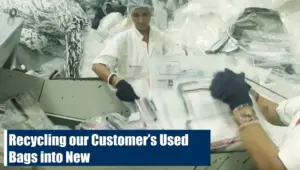 December 6, 2023
This video focuses on EcoLOK4, a groundbreaking product by CONTROLTEK that exemplifies innovation in sustainability. It highlights the process of transforming landfill waste into new deposit bags, with 90% of each bag's material being repurposed trash. This initiative not only reduces waste but also closes the sustainability loop, demonstrating CONTROLTEK's commitment to environmentally friendly […]
Read More