Tote 2.0 Introduction
The Gen 2 Tote by Phononic is spearheading a revolution in the solid-state cold storage industry. This groundbreaking product is redefining the way temperature-sensitive goods are stored, transported, and delivered, offering unprecedented levels of efficiency, reliability, and sustainability.
With its state-of-the-art solid-state cooling technology, the Gen 2 Tote is replacing traditional refrigeration methods with a compact, energy-efficient, and precise solution. By eliminating the need for bulky compressors and relying on advanced thermoelectric modules, it provides precise temperature control that maintains the integrity and freshness of perishable items throughout the cold chain.
What sets the Gen 2 Tote apart is its ability to operate silently, without vibration or harmful emissions. This makes it suitable for deployment in a wide range of environments, including hospitals, laboratories, and food service facilities, where noise and air quality are critical factors.
The Gen 2 Tote's intelligent design integrates advanced sensors and monitoring systems, allowing real-time tracking of temperature, humidity, and other crucial parameters. This enables proactive management and immediate intervention in case of any deviations, ensuring optimal product quality and safety.
Furthermore, the Gen 2 Tote's modular and stackable design maximizes storage capacity and enhances operational flexibility. Its compact footprint allows for efficient use of space, while its lightweight construction enables easy handling and transportation.
By revolutionizing the solid-state cold storage industry, the Gen 2 Tote is empowering businesses to streamline their operations, reduce waste, and enhance customer satisfaction. Its game-changing technology sets a new standard for temperature control, paving the way for a more sustainable and efficient future in cold chain fulfillment.
Latest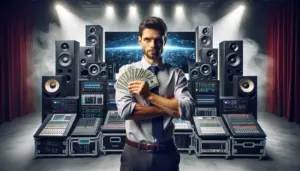 December 8, 2023
Mastering AV sales strategies in a global professional audio-visual (Pro AV) market, poised to reach $79.2 billion by 2028, requires much attention to detail. The surge in demand from corporate, government, and institutional sectors, driven by the need for enhanced productivity and efficient working environments, gives AV sales pros a lot of opportunity. In […]
Read More