How Touchscreens Are Fueling the Growth of Smart Cities Today and Tomorrow
Urban centers were the first areas to implement digital signage at scale and see the resulting and widespread positive impact. As city planners and local governments make investments for the future, it's clear there's an emphasis on expanding existing digital signage ecosystems and moving toward a "smart city" approach to better serve citizens. Smart cities, a concept that grew out of the Smart Growth concept of the 1990s, can be defined in many ways. Academics like Mark Deakin and Husam Al Waer, for example, see a smart city as any municipality that applies a wide range of electronic and digital technologies to transform life and working environments within the region.[1]
Two-way interactive touchscreen kiosks are already transforming life for city dwellers and quickly creating smart cities. The fluidity of this technology makes it a key resource for the smart cities of today and tomorrow and interactive touchscreens are already catching on in Chicago and Portland; both have announced plans to purchase or explore the installation of digital touchscreens.
At Mimo Monitors, we believe that interactive touchscreens are a key component of enhancing city life and that new ways touchscreens can be utilized will continue to be uncovered as they are adopted in more cities around the globe. To that end, we've compiled a roundup of five ways that touchscreens are supporting smart cities today—and will continue to play an important role in the cityscape of tomorrow as they become more widely adopted.
Emergency Warnings
Municipal governments must be prepared for a variety of emergencies such as wildfires, hurricanes, and any other life-threatening events. Smart cities can utilize touchscreen technology to display warning or emergency messages at a moment's notice. These screens can also be used to communicate directly with police or emergency services.
Educating the Public
City governments are consistently working to educate citizens about the benefits of public health and safety initiatives like flu shots or physicals but have a hard time breaking through the competition for attention among many traditional methods. Because people are constantly being exposed to a swath of information and advertisements, so one of the only ways grab attention is with well-placed, creative, and targeted repetitive messaging.
Touchscreen kiosks represent a powerful tool for a wide variety of public service announcements. By placing touchscreen kiosks in areas where there are long lines, public administration offices can broadcast messages to a large and captive audience.
Promoting the City
Cities known for tourism want to ensure that visitors are aware of all the available local offerings. And because events and activities change daily, they need a smart way to update postings. Touchscreen kiosks allow visitors to interactively discover what is happening on a specific day, within a specific area.
Different venues, restaurants, and bars can also leverage this technology by offering discounts to increase traffic. Hyper-local advertisements will be especially effective.
Easy Pay
People are used to paying via touchscreens. Small retailers are using smart phones and tablets, while larger businesses often have dedicated kiosks or self-checkout registers. Retail chains, grocery stores, and postage services all commonly utilize touchscreen kiosks to reduce demand on employees and increase efficiency. Employing easy-pay technology offers cities an opportunity to create additional income that can be used to fund their touchscreen kiosks without having to allocate additional resources.
Wayfinding
Even with the assistance of cell phone mapping apps, it can still be difficult to find your way around a new area. Touch screen kiosks can provide detailed directions to help tourists, or even locals, easily traverse their way through the city.
The Future of Interactive Touchscreens
With all of these applications, cities are increasingly connected by technology, and more of them are embracing touchscreen kiosks as a means to communicate with visitors, citizens, law enforcement, and first responders. There will continue to be more opportunities for city leaders to collect data via touchscreen kiosks to make future decisions about what to build and what citizens and visitors truly need.
As the technology becomes more advanced over time, we believe touchscreen kiosks will become an even more valuable tool for capturing customer information and providing greater insights. For example, perhaps next time you go to a particular place, a kiosk will remember your name and preferences, and recommend a new experience or restaurant to try nearby. Virtual kiosks could provide visitors with a fully interactive virtual human guide. We believe the near future will see kiosks become more fully immersive, offering interactive sensory experiences. Whether created to advertise, inform, entertain, or for crisis communications, we at Mimo Monitors believe that a city's touchscreen kiosks must be reliable, low-cost, and hardy enough to withstand harsh environments.
Founded in 2008, our company creates industry-leading small touchscreens that are designed for interactive experiences. Our technology affords cities a unique opportunity to engage with inhabitants and tourists, collect information, cut wait times, and supply information, providing countless benefits for both viewers and municipalities alike.
Learn more about how Mimo Monitors touchscreen kiosks can make a difference in your city at mimomonitors.com/pages/kiosk-solutions.
Read more at mimomonitors.com
[1] "From Intelligent to Smart Cities". Journal of Intelligent Buildings International: From Intelligent Cities to Smart Cities.
Latest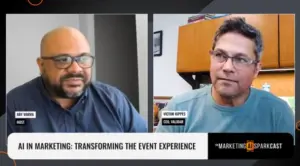 November 28, 2023
AI has been gradually changing the landscape of event technology at a very rapid pace. In an industry where staying ahead of technological trends is crucial, AI's impact on marketing and event management has become increasingly significant. As witnessed in the rise of account-based marketing and enhanced personalization, AI is effectively reshaping how events […]
Read More