UBISOFT Debuts AI Coding Program to Detect Bugs
Ubisoft debuted a new AI system in Montreal at this year's Ubisoft's developer conference. The new system, named Commit Assistant, can detect and flag potential coding bugs even before the developers make a mistake.
"I think [that] like many good ideas, it's like 'how come we didn't think about that before?'," says Yves Jacquier, who heads up La Forge, Ubisoft's R&D division in Montreal.[1]
To demonstrate its effectiveness, the creators fed the program over 10 years' worth of gaming code from its library, and it pointed out mistakes, as well as actions taken to rectify them. By collecting data, the goal for companies is to reduce time to fix bugs by 20% and absorb as much as 70% in costs.
"The most important part, in terms of change management, is just to make sure that you take people on board to show them that you're totally transparent with what you're doing with AI – what it can do, the way you get the data," says Jacquier. "The fact that when you show a programmer statistics that say 'hey, apparently you're making a bug!', you want him or her [to realize] that it's a tool to help and go faster."
This could be a game changer for the coding industry, and only time will tell how successful this artificial intelligence coding will be.
[1] http://www.wired.co.uk/article/ubisoft-commit-assist-ai
Latest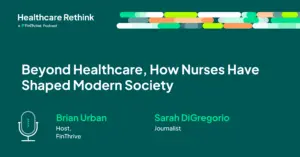 December 4, 2023
Nurses Have Shaped Modern Society beyond healthcare to stand as pivotal figures that transcend their traditional roles, influencing the broader spectrum of societal change. Healthcare Rethink, a FinThrive podcast hosted by Brian Urban, welcomes Sarah DiGregorio, Journalist, Author, and Speake,r to discuss her second book, "Taking Care: The Story of Nursing and Its Power […]
Read More