The UK Looks to Lead in Developing New Battery Technologies
The rush to find and develop new battery chemistries is heating up, with the United Kingdom poised to lead the pack. For much of the 20th century batteries were a neglected technology that was taken for granted, with their standard disposable zinc-carbon cells serving their purpose well. Most were content with batteries and there was no incentive to push the tech into the future. That attitude is changing, and fast. Portability and mobile technologies in consumer electronics demanded batteries with longer life and in smaller units. More recently, the move toward hybrid and electric cars has thrown yet another factor into an increasingly complex tech field. The United Kingdom has noticed this tech race for better batteries, and their government is preparing to give their domestic battery development an edge.
Seeing an opportunity in viable new battery chemistries, the United Kingdom's government is infusing around $305 million into domestic battery tech in order to lead the globe. The investment spans four years and is known as "The Faraday Challenge," setting up multiple competitions to accelerate battery research and bring new perspectives into the mix. On the Challenge's momentum, a partnership between Warwick Manufacturing Group and the Coventry City Council received a $100 million investment to create the National Battery Manufacturing Development Facility (NBMDF), an exciting development for the Challenge's proponents.
Industry observers and companies hard at work on cutting-edge battery chemistries recognize that lead-acid batteries will likely dominate the market for years to come. What's surprising to many is that the demand for rechargeable batteries has slowed in recent years after a large boost in the late 1990's from the surge in mobile phone technology. Now, the greatest demand comes from the automotive industry, providing a new set of challenges. The Faraday Challenge was designed to target electric vehicles, and has created specialized targets for the burgeoning market sector.
The United Kingdom's Faraday Challenge has pushed new chemistries into the spotlight like lithium-sulphur, lithium-air, sodium-ion, and more, marking a resounding success for the initiatives supporters. Once these new chemistries enter the market, questions will arise about new solutions, applications, and new combinations of battery technologies that will make consumer and industrial products more efficient, safer, and smaller.
Latest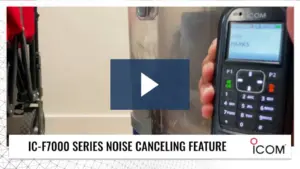 September 27, 2023
In this brief product demonstration video, ICom's IC-F7000 Series receives a mic test of its noise-canceling feature. Through the two demonstrations it is clear the IC-F7000 removes loud ambient noise for clear two-way communication.
Read More