Watch: Apple Watch Gains Medibio's Personal Mental Health Measurement App
Medibio Limited announced the release of a new, personal mental health measurement technology app for Apple Watch users. The app captures and processes specific biometric features that reflect the performance of the body's autonomic nervous system. Data collected during the session runs through the Medibio app over a 24-hour period.
The information is stored in Apple HealthKit and Medibio processes that data through a series of algorithms. Medibio's tech platform has the ability to annotate sleep and awake cycles through Apple Watch. Care providers will be able to better screen patients, aid diagnosis, monitor, manage, and risk stratify patients, too.
Latest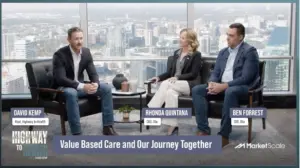 December 7, 2023
As of recent times, the healthcare industry has been progressively shifting towards value-based care, a model that emphasizes patient outcomes over the quantity of services delivered. This transition represents a significant shift that promises to enhance patient experiences and outcomes while controlling healthcare costs. With a growing emphasis on this approach, especially over the […]
Read More