Star Wars, The Witcher and Beyond: How Much Money are Big Name Properties Actually Generating?
Welcome to the first edition of The Weekly Download! On this show, we'll give you weekly updates on all things technology, gaming, pop-culture, and news on our favorite IPs. This week we are discussing the performance of two newsworthy launches. Star Wars and The Witcher.
The Force Disappoints?
Let's start off with off with Star Wars. The newest film in the saga, The Rise of Skywalker, has been met with an extremely divisive response, even by Star Wars standards.
But lets get into the numbers:
As of January 1st, the movie has grossed a staggering, albeit disappointing, 815 Million dollars, and is projected to clear the billion dollar mark soon. This number falls short of its predecessors such as the Force Awakens which brought in a titanic 2.07 billion dollars and The Last Jedi which grossed roughly 1.3 billion dollars. This shortcoming has been a bit of a surprise to Disney execs, but it may have been expected by many of the fans.
The Rise of Skywalker has divided fans and critics with a Rotten Tomatoes score of 54% fresh from critics and 86% fresh from fans, making it the second worst rated film in the franchise.
But fear not Star Wars fans, we have a bright future to look forward to on both the big and small screen. Many of you are probably aware of the Mandalorian which is now streaming on Disney+ and has solidified itself as a fan favorite of the franchise.
The final episode of season one premiered recently and capped off the end of a very successful installment for both Disney and Star Wars
Fighting for Viewers
The Mandalorian has garnered millions of fans across the world and was the most watched TV show in the world for a short time until being dethroned by one of our new favorite series from Netflix, The Witcher.
The Witcher is based off a Polish fantasy series written by Andrez Sapkowski and made popular by gaming studio and developers, CD Projekt Red. The company made waves with their game series by the same title.
The Witcher is now the number one show in the world and has garnered thousands of fans to pick up the Witcher 3 Wild Hunt video game that was released in 2015 by CD Projekt Red. The game is setting new records from its player base 5 years after its release. It also happens to be the most awarded video game of all time. Things are looking good for this series, and we will have plenty of new updates from CD Project Red in the coming weeks so stay tuned.
—
That's all for this week, thank you for reading. If you like this content and would like to see more from our team, Please visit MarketScale.com/Industries to stay up to date on all things B2B.
Latest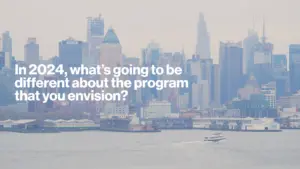 December 1, 2023
In the dynamic telecommunications landscape, Verizon's Partner Network continues to evolve, adapting to new trends and opportunities. For another segment featuring Mark Tina, VP of Indirect Channel Distribution and Channel Chief at Verizon Business Group, he explores exactly what types of significant changes and advancements the Verizon Partner Network will see in 2024. In this […]
Read More