What the Drone Industry's Thankful for in 2020
Both pilots and companies are navigating a thin line between security and innovation. Host Grant Guillot talks with leaders, influencers, and experts across the drone industry to guide us through the complex web of technology and policy in the United States.
Even in a chaotic year like 2020, there are things to be thankful for – and "Drones in America" host Grant Guillot said there are plenty of reasons to be grateful if you're a player in the commercial drone industry.
Many of those reasons stemmed from necessity and an accelerated pace of innovation in response to the spread of the novel coronavirus and the ensuing COVID-19 pandemic.
For example, drone delivery has been thrust into the spotlight – though it perhaps didn't materialize in the way that many expected it to during this turbulent year thanks to essential worker distinctions and more, the conversation has still accelerated.
"People who had a tendency to fear drones and not really understand what they can be used for began to really see the potential in drone deliveries," Guillot said.
Drones also saw more widespread use in the energy and oil and gas industries, which Guillot said are primed to exit the COVID-19 pandemic and become even greater end-users of drones.
"I think it's only a matter of time before we see a lot more use of drones in the oil and gas industry and other industries that were kind of hampered or slowed down because of COVID," he said.

Latest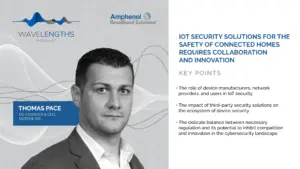 November 28, 2023
Since the introduction of smart devices, the world has increasingly become dominated by interconnected devices but IoT securitydemands are also growing. The "connected home" has shifted from what was once a futuristic concept to reality. With the global smart home market projected to reach $135.3 billion by 2025, the conversation around the security of these […]
Read More